Water Bondage Overview
Imagine the scenes which involve tying the girl in the dunking chair then she gets suspended up in the air until she is slowly pulled down only to become fully submerged in a deep water tank. Welcome to Water Bondage.
Water Bondage Features
All you have to do is pay the site a visit to fully enjoy the presence of more than 270 video and photo materials in the Water Bondage galleries. In full HD quality for videos, there are three viewing resolutions to choose from including the full 1280×720 pixel files. The images are made into sets so you can take a pick from the episodes and download everything at once. All these will make you get dreams of submission and water the moment you close your eyes. The images are very vivid be it in stills or in highly moving shots on screen.
Water loving members have jumped up and about and rolled in sexual delight when they discover that Water Bondage fulfills everything their crotches desire. Curvaceous models, athletic porn stars, demure amateurs all come together to blow your senses out of the water. Pussies are hosed down with water making them moan and shiver in heated delight and in the cold temperature. The water traces the outline of their skin and sends tingles in their spines as they feel its pressure on and off their bodies. When they are lowered down into the tanks, the need for air becomes apparent and immediate that it is visible in their faces once they are brought up for breathing.
It is the excitable mix of lust and shock that makes Water Bondage very unique in its position in the porn world. It is like they made BDSM for water that so long as it's about getting served and being wet, only this site can provide the superior experience not before seen anywhere else. That is how powerful the images that have been produced by Water Bondage to be.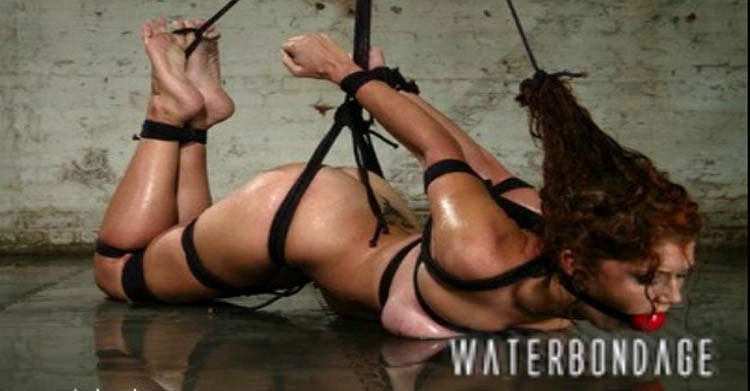 Water Bondage Contents
There are group actions as there are solo acts. Duos have been explored too as the water women caress each other by licking it all out. As they struggle and slither on the floor, the excitement produces more than its share of sexual steam that moistens your screen as you jerk off with what you are seeing. The group sex sees them all fully tied up and working their ways out of the binding situation to please each other, lick the pussies and pleasure the assholes as they start on the floor and end up altogether in the water tanks. There is the dunking chair which involved the sex goddesses in various state of undress only to be streamed with water from big hoses which makes them wet and disrobed in a slow sexual dance. The flogging moments give a lot of needed adrenaline rush to arouse your innermost sexual fantasies. The imagination of the women gliding across the floor in full nakedness can run wild and free that you may even think of ways on how you can put those positions in place in your own sex life. The models in their wet glory can make you feel the heat even when they're all drenched and submerged fully. These water maidens are trained properly for full safety in procedures and production. As they become very vulnerable in many instances, the Kink network makes sure that layers of protection are in place to make sure that people involved in providing you the excitement of your life won't cost them theirs. 
 
Breathing properly is extensively discussed in the post-production interviews that are made accessible to everyone. All the women discuss the massive preparation they have to do before they get splashed with water. Even the extent of how the producers set things up is part of the insider info that will make everyone comfortable with the thought that the excitement they feel will not go beyond the usual course of safety. The only pulse racing thought to remain in your mind should be those of sexual excitement and nothing else. A lot of care is put in place to ensure safety nets are observed and followed to the tiniest print. The debriefing sessions are also seen in the post-production materials to add a layer of protections to the porn mermaids who are filmed in and out of the waters. In true and full control of their environment, the sirens are stripping, squirming and cumming like there's no tomorrow. One will be on the edge of their seat as they never stop moving past restriction and reaching a climax that will never be described enough in words. 
 
As they get suspended above the water tanks, they are gagged and fully roped in that once they get wet, the main thought in your mind is in having more and more. As they struggle while they are being lowered once more, the rush in your veins will be so much to contain that sooner than later you begin to realize that your hand is moving fast, up and down your shaft till you reach your dreamy and creamy orgasm. 
 
One of the girls named Darling, is a fine example of how a combined shock and pleasure of a submissive subject can become a mind (and balls) blowing experience. Her body is trying to balance on one leg as she is soaked and her boobs drip with the combined water and sweat that is a result of exhaustion and sexual tension. She is then dildo-ed and denied her favors as the waters touch her skin and provide relief and pressure at the same time. She is finger fucked to create the build up which paved the way to her unbelievable underwater orgasm.

month: $49.99

trial: –

year: $319.99
month: $49.99

trial: $1.00

year: $319.99 – $26.67/mo