Punished Angels Overview
What a man could expect from a site called Punished Angels? Well, a whole lot of cute girls – they really look like angels – who get spanked by another hot girl. This site has all it takes to satisfy the needs of those who like spanking, and it's also quite good for those guys who enjoy watching red buttocks. 

As a
Fetish Network
installment, the
Punished Angels
has a history, and you get access to a nice archive here. Though the site doesn't seem to update anymore, the videos are all quite long, and they featu
re really hard spanking. These scenes are coming from the workshop of Chelsea Pfeiffer, editor, photographer, producer, who herself is an enthusiast for spanking. There aren't much
videos
on the
Punished Angels
(about 35) but they are quite long, and really
erotic… and the spanking is real, the girls don't fake as their ass turns red.
Since the
PunishedA ngels
is a
Fetish Network
site, you get a whole lot of bonuses, and you might find that you don't know what to do with it. In case you like fetish porn, this
network of sites may be familiar to you, because it's one of the oldest and biggest networks in this niche.
The members of the
Punished Angels
gain access to more than 35 heavy hardcore porn sites, offering you about 3,500 videos and 850+ standalone photo s
ets – we haven't counted in the video caption galleries. There are sites in this network, which are no longer updating, but you don't have to worry about getting fresh content: they usually add 2-4 flicks to the network's collection every week.
For more sp
anking videos, you might want to check sites like the
Elite Spanking
,
Perfect Spanking
or the
Pure Spanking
. However, the other fetish sites you get access to are worth a look: you don't know you have a fetish, until you give a try to new things.
Punished Angels Features
It's quite surprising that a site with spanking-focused videos uses pink colors throughout the page, since it's usually a color lesbian sites use. There is mostly girl on girl action, so much is true, but this tricky color may give a wrong impression. Nonetheless, the tour is really good. The videos are listed on the home page, you can view only a few of them though. However, there are free trailers to watch, so in case you want to get a picture about the content, you can do so quite easily. 

Once you log in, you will find yourself in front of a very simple members' area. There are no search tools, so you can only use the menu on the top. There you will find options that lead to the different mediums (photos and videos), and the bio of Chelsea Pfeiffer who is responsible for these sexy videos. 

The videos are really nice in quality, they usually offer HD playback, however the biggest downfall of the site is that it offers streaming-only options. They are all streamed in MP4 format, and the player has good abilities. 
When it comes to the pictures around, you will find here only video captions, which might server well as previews, but they are not really worth downloading, due to their quality.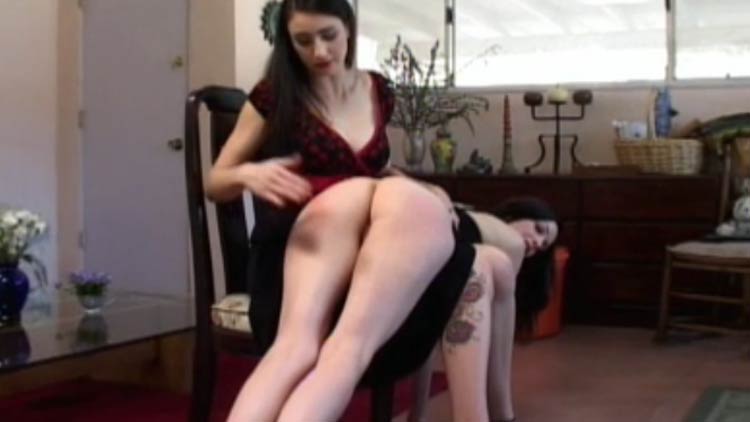 Punished Angels Contents
On the Punished Angels you will find some hot chicks. These sick cuties are not here to get their fair share of fucking, instead they get their fine ass spanked hard. In these scenes professionals are playing their role, and they all get what they want – a thorough spanking. If you are into this kind of action, you will certainly love this collection, but you just want to see cute girls with a red access, you can spend some fine time here. The models of the site are usually coming from the 20-30 years old range, and they usually get spanked by a somewhat older woman. These girls are mostly natural beauties, and though you won't see much of their body, you may get the idea about them, because they are really hot. There will be some tits flashing, but the girl's ass and sometimes the nice shapes of their pussy is what you can see here. Every video features girl spanking girl action, and they are all coming in a quite hardcore style, though it's really just spanking. The scenes are directed by Chelsea Pfeifer, who claims to be a spanking-enthusiast herself, and she is quite cute too, we would really like to see her in hot spanking action. 

The videos of the
Punished Angels
are usually covering a story. These are full fantasies, which feature a crime, a judgment, and then the penalty. In order to make sexier,
the girls who get spanked are starting to like it at one point. These scenes are professionally
made,
they usually take place in a home-like environment, making the videos more life-like. The stories are usually about something the cuties do, and they get
their penalty. For example, one of the scenes tells about a quite common problem nowadays: girls using their mom's credit card without asking. In this video – not like in real life – the girls are not getting away with it with only some yelling and being
grounded for a week or so. No, in this video mommy gets mad, and she gets a brush in her hand, and spank her girls' ass until its red like her lips. In other scenes the girls are just curious about spanking, and they just give it a try. It doesn't really m
atter if it's a scripted scene with just hot spanking action going on or the scene tells an actual story, the
Punished Angels
has an exciting and sexy collection.

month: –

trial: –

year: –

month: –

trial: $0.00

year: –

month: –

trial: $0.00

year: –
month: $24.95

trial: $0.00

year: –