3D Kink Overview
I'm pretty sure by now, you've seen a lot of 3D animated movies that has been released from Hollywood, and it's no joke when I'm saying there are a lot of sexy 3D girls that are being rendered by these 3D animations. Like those from Avatar, or Final Fantasy VII and more. Correct me if I'm wrong but I'm willing to bet that most of you have been having some fantasies with these 3D fantasies have you. I don't blame you. The girls in those
The girls in those
3D
animations are pretty hot and sexy. That's why today we're going to r
eview this site called
3D Kink
. This site is going to make all those fantasies even closer to home my buddy. So get ready to crank up your imaginations because
3D Kink
doesn't only gives you the opportunity to see more
3D
girls on screen, but offers you a ch
ance to make them your very own slaves as well!
How you ask? Well it's
gonna
be quite complex to give you the answer so I'll try to make it sound as simple as possible in this review.
3D Kink
has grown really popular for
hentai
lovers and porn lovers alike,
because this is where
hentai
cartoons and real porn come together and form a porn site that has features that will surely stun you to the very core. All those
3D
girls you're fantasizing about? Well you're about to have them served in a platter dude! So g
ear up those dirty yet creative minds of yours guys because this site's surely
gonna
need them!
3D Kink Features
Every guy has its own fantasy girl in mind. Whether they're married or not. So 3D Kink's gonna help you bring out that reality towards your screen. So first thing's first. Let's see the homepage. In the homepage, there's going to be this video preview that's playing all kinds of stuff that 3D girls will be able to do for you. I bet by now they're playing girls doing some lesbian fuck scenes and some Dom Sub stuff as well. But enough of those previews. What we want is to get our hands working already. Oh, I almost overlooked something, if you want to see some legit member customized 3D girls. You can open up the Gallery page and you get to see hundreds of member made girls.
These girls are looking hot guys. It's like they could star in their own movie. That's how authentic and high quality the rendering is. Now if you enter the Create your Own page. You will see all the customizations, hence why you can totally create a model that looks like famous stars. You can edit the eye color. If you like blue eyed girls or even those naïve black-eyed girls, it's your pick! As well as the hair style and hair color. If you pick just the right one, you'll probably end up creating a girl with hair that would flow nicely has you're fucking her hardcore! Now if you're into those chubby/busty women, that's totally not a problem here because the body shape and body size is fully customizable from head to toe man. if you want a sexy Latina with nice skin, you can change the color as well! Don't forget the butt size as well dude! Now I know the body's a big factor when it comes to being satisfied, but let's not ignore the importance of a great costume as well!
If you're an anime fan as well, then you're in luck because some of the customs were copied from many anime series! That's right man, I know your eyes are probably tearing up right now but that's not all! You can add some sex toys, breast size, breast shape and even the spacing between those mountains! Oh, and here's a tip from me. Did you know, that you can also edit the vagina size? And here's another thing, if you make the vagina really delicate and tight, it might affect how the girl screams when you're fucking her! Pretty cool huh?
Speaking of screaming, the girl's voice is customizable as well. We wouldn't want to own 5 sex slaves with the same voice would we? That would be creepy. Now once you're done editing your girl here is where the REAL fun starts. You can now have her do whatever it is your heart desires. The site has developed all possible sex positions known to man and even have them do foreplay with each other before you start, and get this, you can even play games with her. Talk about a real cyber girlfriend.
Now if you're the adventurous type, you can go ahead and go to the pre-rendered locations page and see a vast array of locations you can bring your girls to. That way, fucking them can get more creative and visually satisfying. Also don't forget to share your girls with the community so that you they could give you a good applause and even commend you for your creativity!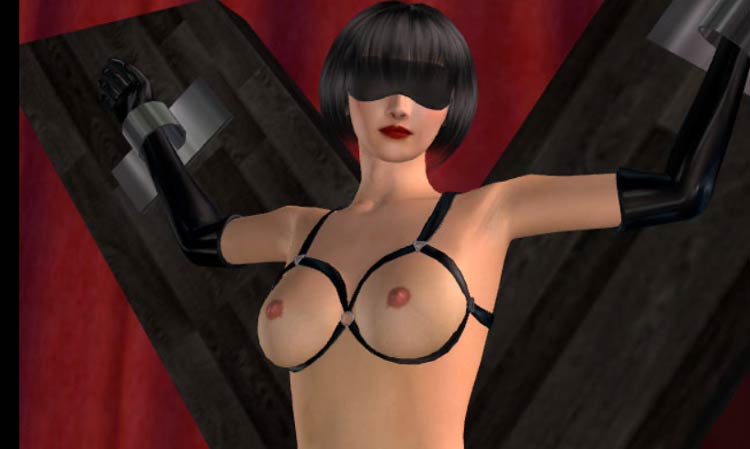 3D Kink Contents
The animation quality and voice acting are top notch! I don't know how much they spent in having their girls getting rendered in qualities as high as this but let me tell you. if you've watched 3D animation movies like Final Fantasy, then you know what I mean by this thing's the real deal! The voice acting is even better than I thought. Very convincing and thought provoking. I would probably ask for nothing more but give them full compliments at the forums!

month: $29.99

trial: $9.99

year: $169.99

month: –

trial: –

year: –
month: $29.99

trial: $9.99

year: $169.99