Cum Bang Overview
Cum Bang is an adult entertainment site that provides a lot of sex activity and great quality flicks. You are presented with amazingly hot and sexy ebony models with an insatiable appetite for sucking cocks. Prepare for a rainy atmosphere as the dudes are titillated to the max by the stylish and energetic pretty black cuties until they spray lots of cum.
Cum Bang Features
I love the black and blue color blends in the background of Cum Bang. There is an artistic feel to the design and layout on this platform. There are several user tools that made my visit to the platform worth my while. There is a list of tagged captions splashed across the pages of Cum Bang. There is a detailed description of the scenes. Users are brought up to speed by the detailed scene descriptions. Streaming is possible too. I could stream videos with ease as I sat behind a desk in my campus room. There is no limit to the number of flicks and photos you wish to download. I could even check out the flicks from my mobile phone. The loading is fast and seamless. You are treated to a set of full HD video flicks on Cum Bang. Interracial action is a great attraction. This time black cuties are on the receiving end. I also loved the fact that the content provided on the platform is all exclusive to Cum Bang. This feels good, especially when you know that you have been set back by several dollars to access content.
If you love to have bonus sites under your primary subscription, there are several bonus sites you can check out. I warn you to prepare for a long one because there are over 21 sites that you can access with the primary subscription. I loved the flicks and photos on Blacks on Blondes, WatchingMyDaughterGoBlack, Gloryhole, Dog Fart Behind scenes. The only qualms I have relate to the fact that the content is still little. I say this with a mix of feelings because the content itself is great, HD type. However, the little amount of content leaves you yearning for more. They have tried to fill in many voids with the many bonus sites they have made available. The updates also come in unpredictable fashion. I wish they could expedite the updates so that the content can also grow faster.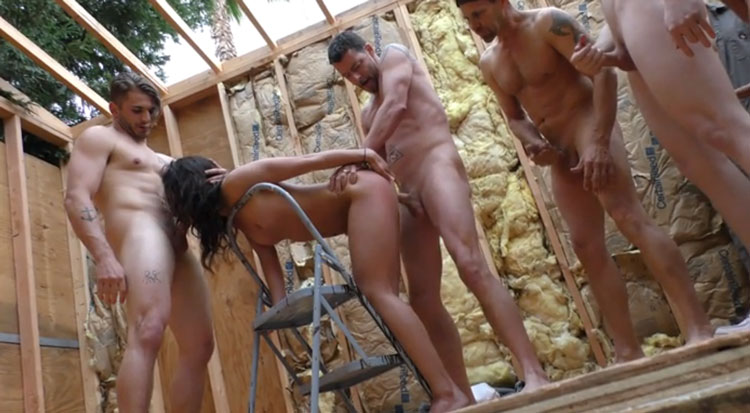 Cum Bang Contents
Cum Bang presents you with interracial scenes of black and beautiful sexy hot beauties in cock sucking sprees. Although the platform seems to be preoccupied with handjobs and blowjobs, there are scenes that feature the black horny dudes being drilled by white dudes in hot bareback sex sessions that stir your sex juices like a stimulant jab. You are treated to several sexy group sex sessions in which curvaceous black girls are captured close to the camera, sucking and playing with several dudes at the same time. Expect lots of cum on the platform. Meet the slender, sexy and beautiful Lisa Tiffian taking her cum on the face that ends up looking as if someone just washed her with a ton of jizz. This cutie is specially featured. She is said to be pursuing a degree in human sexuality. There is a lot of entertainment to keep you busy for a long time. Catch over 80 videos that come with a 20 minute playback per flick. The files are made in MP4, WMV and Flash Player formats for easy and fast seamless streaming. There is an equal number of galleries that contain over 200 pics per set. There is no download limit. You also have a zip file to help you organize your downloaded files.
month: $29.99

trial: $0.99

year: $8.33/mo