Ultimate Surrender Overview
Love wrestling? Do you like watching girl on girl porn? Want to see the hottest hardcore lesbian action? Now there is a place that gives you all of the above, combined to perfection and it is called Utimate Surrender. It is a great website that takes porn to the next level and gives a whole new approach to competitive wrestling.
Ultimate Surrender Features
On Ultimate Surrender you will find high-quality porn and great wrestling matches all put together in a professional manner by a dedicated team. The website is part of the Kink network, one of the most famous BDSM and fetish networks on the Internet. The website is fun and easy to navigate, with an inspired layout that sets the tone from the start. The colors are not overbearing, you can find mostly a dark red and white, with subtle accents of grey and black. It has a simple monochromatic background, allowing you to focus more on the content. The membership plan is convenient for everyone and they are very discreet and professional with their payment methods. Moreover, the Ultimate Surrender website is optimized to work on most mobile devices, such as smartphones, tablets and iPods. There are several useful links that allow you to browse the bonus websites from the network or direct you to the store. You get links to the main events and also a comprehensive gallery for the models, with extensive information on each girl.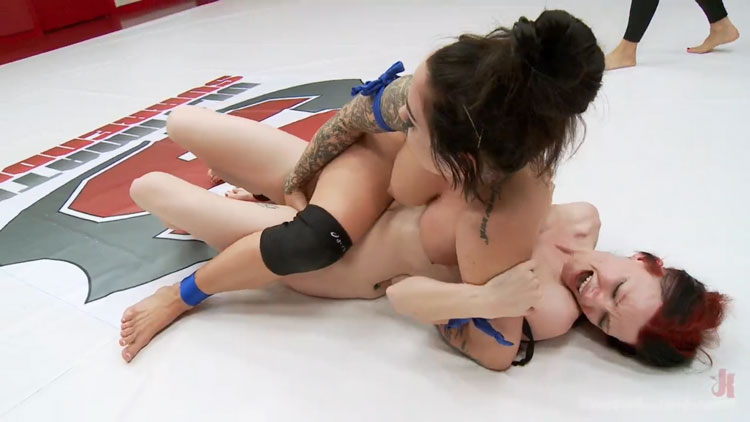 Ultimate Surrender Contents
All the unscripted and genuine lesbian porn wrestling matches are a concept devised exclusively for Ultimate Surrender. This original concept features both one and one matches but also tag team ones. Once a month, you get a live cam tag team match. Otherwise, the website updates on a weekly basis, every Friday. The videos uploaded on Ultimate Surrender are extremely high quality, filmed in HD. They are filmed in a wrestling ring and the editing style reflects that of a sports competition. The porn in the fourth round is also very well captured. There are over five hundred hours of movies filmed and uploaded and all of these videos are available for both stream and download. The videos are downloadable in HD quality, so now you can take your favorite champions with you anywhere you go without giving up on the HD aspect. Ultimatesurrender also has a huge collection of high-resolution photos of the models and screenshots from the scenes, captured in over seven hundred shoots by professional photographers.
The girls on Ultimate Surrender truly are a fantasy. First of all, they really look like they are having fun during the matches and especially after, regardless if they have won or lost. There are over two hundred models exclusive to the Kink network or to Ultimate Surrender. It's hard to differentiate between a professional athlete and a porn star with these girls. Based on their looks, they are both. They have all the sexy elements of a porn star to them, like the great boobs, sexy faces, enticing smiles and overall sex appeal. But they are also really fit and they know their wrestling moves. They combine these moves with sexual elements, as that gets them extra points. The whole purpose of a match is to make your opponent have an orgasm, despite their resistance and their attempts to do the same to you.
month: $29.94

trial: –

year: $169.95