Shoplyfter Overview
Shoplifters are one of the problems of businesses everywhere, and since the number for this offense is increasing yearly, loss prevention officers are being placed in stores to keep watch of the store items. We have seen clips and CCTV videos of what happens to those who gets caught and we also know the consequences for their action but the site ShopLyfter gives this scenario an unexpected twist and they also give their viewers a sneak peek of the action and the steamy session that occurs behind closed doors.
ShopLyfter is an adult entertainment site that focuses the plot of their videos on women who get caught stealing items from local businesses, they are then asked to choose between jail time or getting laid inside the interrogation room. All of these models agree on getting their pussies pounded even though there are cameras everywhere, and since their sessions are caught on tape, they are all uploaded on the site for the viewers to enjoy and they are all labeled by case numbers.
Shoplyfter Features
This site is powered by Paper Street Media and through the years had uploaded hundreds of high-quality videos. The background of the site is simple and all the links that you would need to navigate the site are placed at the homepage such scenes, join now and log in. 
All the videos are arranged neatly in the middle part and it is arranged in rows and columns, the videos are also labeled by case numbers and they run for about 20 to 30 minutes long. These high definition videos can be streamed directly in your laptop, desktop, and tablet by using their fast streaming option, you can also use the mobile version of the site if you want to watch the videos through your phone. Since they are aiming for customer satisfaction, they want to make sure that their members will be able to enjoy the contents of their site anywhere and anytime, they made all of their videos available for download and you can even convert them so that they can match your device. 
The site has thousands of high-resolution pictures that you can download as well, these are all taken from the scenes of the videos and they are placed in a ZIP file so it would be more convenient for you to download large files. 
They update their contents regularly so if you want to be updated, you can follow their twitter account or you could sign up for their newsletter, you will be notified directly to your personal email. The site also comes with a customer support hotline that you can contact anytime for they are available 24/7, the link is provided at the bottom most part of the page, you can contact them through phone and through email and they are more than willing to help you with any concerns or questions that you may have. If you are new to the site you can read their frequently asked questions, it will help you go through the links of the site and you can learn more about how to use it.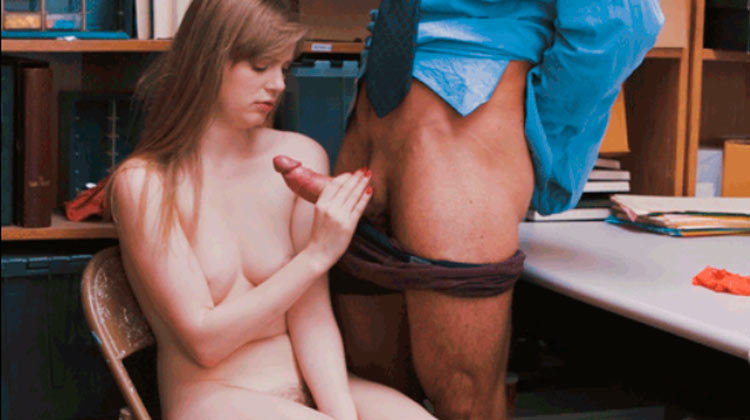 Shoplyfter Contents
The models on this site have one thing in common, they were all caught shoplifting and the videos on this site will show you what happened to them after loss prevention officers took them in. Bargains and deals were made behind closed doors, but these deals and bargains favor more to the side of the officers as they got laid during the process. 
One video showed a hippie model that got caught with a stolen shirt inside her purse, although she denied the accusation it was evident in the video that they got of her and she could no longer deny anything. She was then given an ultimatum and she chose the easy way out. Her clothes were then taken off and she was grabbed by the officer, he played with her breasts and rubbed her pussy, he even held her head so that she could suck him off. They used the table so that he could pound her pussy, he made her bend over while he grabbed her waist and pumped his cock in and out of her. 
In another video, it showed another shoplifter asking to speak to someone about her situation, but the two officers had something else in mind for her. Feeling horny, the two of them proposed an idea that they had and assured her that nothing will be written to her and that she won't be detained any longer after they are done with her. As she wanted to get out of the room immediately she agreed, and the hottest threesome happened. The officers took a turn in putting their massive cock into her
mouth,
she also got her hands to be busy by jerking them off alternately. She was bent over as one officer pounded her pussy from behind while to her fucked her mouth like a pussy, he made her suck his cock until it was throat deep. She also rode their cocks alternately as the officers sat on the chair and carried her as she bounced on their man meat. The video ended with her kneeling on the floor and the both of them shooting their load all over her face and chest. 
These are just some of the videos on the site, there are hundreds more available to those who signs up as a member.

month: –

trial: –

year: –

month: –

trial: –

year: –

month: –

trial: –

year: –
month: $9.87

trial: –

year: $60.00