Lol Lesbians Overview
One of the reasons people sometimes get bored with porn is because it sometimes gets repetitive and predictable. Since mainstream porn is all about creating scripts and acting them out, there comes a time when creativity runs dry and the scriptwriters and directors are left with no option but to start rewriting scripts and giving different versions of it. While this may work for a while on the viewer, it can only last for some time after which the viewers are left with a feeling of deja vu. That is when they start looking for other more interesting porn that does not carry the usual lines. That is when the appetite for homemade porn increases. Homemade porn is porn that is put together by real people who do not actually work for the porn industry. It can be porn made by lovers right in their home or by friends having fun with each other. Homemade porn sites are now being created all over the place with some being actual fakes. Therefore, when you really want to watch real homemade porn, you have to turn to the experts who understand the nitty-gritty of the porn industry. Today, we present to you a lesbian homemade porn site called Lol Lesbian.
At the age of being a freshie is a good time for it is that time when there are no twerps, no husbands, no responsibilities just you and you alone. It is that time when you can afford to get and go without bothering to look behind. It is that time when you can dare to make a porn video of yourself and send online without bothering about future repercussions. It is that time when sex orgies are the other of the day and if putting it all on camera and selling the videos for cash means you can afford next year's holiday, even better. That is what the girls at Lol Lesbian are experiencing right now. They are fresh, they are cute, and they are not afraid to face their feminine nature. They get involved in wild parties and end up in lesbian videos looking and feeling horny. They really do not care if the videos end on a homemade porn site. Actually, some of them do a film with the aim of selling the videos. Talk about boldness.
But then it is thanks to this boldness that you who loves to watch real lesbian action will be able to get the videos that you badly need. It is because these hot cuties have accepted to embrace their wild site and make the most of it that you can now afford to sit in the privacy of your room and bring yourself to orgasm as you watch these girls get down to each other in some nasty poses. Some of the scenes you are going to be watching on this site will leave you speechless. These girls are creative and you got to admire the love and camaraderie that comes across through the video as honest. Mind you, it is not about two or three porn stars who have never ever met each other coming together in a preplanned video shoot. It is about real friends being adventurous and showing off their pussies as they are being licked in acts that could be considered to be spontaneous.
Lol Lesbians Features
Before continuing with a talk on how naughty this site is, it is always nice to have a feel of the design of the site as this is what can make even the best content look bad. This site is part of the Mad Porn network sites so when you get into the members area, you will find the other sites that are listed on the network. You have to choose Lol Lesbians to get to their site proper. The site makes navigating very easy through the use of a dropdown box from which site content can be reached. The videos are arranged in categories to allow for easy location.
There are a lot of thumbnails that can be used to access videos and model pages. While there is no model index, there is still enough shortcuts to the models that you wouldn't even notice. You can get them by checking out videos in which they feature as well as the most popular models. The other sites on the network can be accessed simply by clicking on their logos.
When you come to Lol Lesbians, you are more interested in finding the videos than anything else. To your delight, the site is designed with one aim in mind: to help members find videos fast. That is why right from the home page you will find a huge gallery of videos that are only a click away. Then also, you can only hope that you are already a member if you are to get full view these many videos.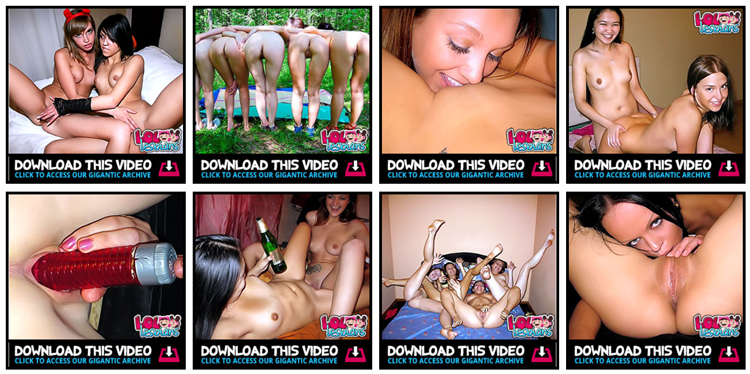 Lol Lesbians Contents
This site is all about homemade videos and when you hear homemade, you should not expect to see professional porn stars appearing in the videos. Those only appear on expensive sets. Also, homemade also means that you can be sure that you are not going to be seeing a lot of glamor and fancy looks. Yes, these girls are beautiful but not in the way that you will expect to see with the pros. The girls are coming from different backgrounds which are to be expected given that these are user submitted videos and just about anyone can do theirs and be paid for it.
The videos are hot and very exciting. You will find these girls in solo action and in orgies. In the videos, they tease and lick pussies in ways that will leave you the viewer twitching in your chair for more action. It is just as if they are teasing and playing with the clitoris as if to say I need a cock but can't have one just now. The orgies are exceptionally interesting with a bunch of pussies flashing their assets before the camera. They spread their legs wide and even use their fingers to push the pussy lips apart just to make sure you miss nothing.
On the site, there are over 98 videos available in mp4 format. The mp4 format can be downloaded with a download speed of 2000k. It is possible that a download manager can be used here comfortably. To watch online, the flash version is used which plays in the browser. The photo galleries associated with the videos are also 98 with each having about 50 pictures.

month: $27.95

trial: $1.00

year: –
month: $27.95

trial: $1.00

year: –