Evil Angel Live Overview
The Evil Angel Live is the live cam site of the Evil Angel studio, so apart from the amateur performers; you may even have a chance to chat with actual pornstars of the studio. When you see the word amateur, you probably think of something less good, but you can rest assured, that these amateurs are not those amateurs you thought of. The performers on Evil Angel Live are all professionals in the cam show business, and they can give you an outstanding experience.
You can find here literally everything you could possibly wish for. There are female and male models, though if you like the transgender you may find a large number of transsexual models too. The girls on Evil Angel Live are doing their shows from all around the world, but all of them speak English, so chatting and discussing the details for a private show won't be a problem. You can see that there are all ethnicities present, and the girls all have different bodies. You may find here nice busty chicks, as well as some skinny girls with perky tits. If you are a man, who likes the BBW type, you are lucky, because there are lots of them too.
Since most people visiting the cam-sites are usually men, it's not necessary to mention the male performers, but if you are a girl, or you are gay, you can also try this site, because most of the lads are handsome, and they have excellently build bodies. Apart from the actual heavier rooms, you can find a good number of non-nude chat rooms, where you can have a hot flirt, or just talk with someone about the problems you have in your life. There is a huge model database at the Evil Angel Live, and you can usually find 1500-3000 different performers online, but if you have someone you would like to see in action, you can check her/his schedule on her/his profile page.
Evil Angel Live Features
The design of the Evil Angel Live is the one that you could consider as the traditional one, because many cam show sites have switched from this kind of layout and design to a newer, Flash-based one. It's possible that in the near future, the Evil Angel Live will switch too, but until then you can use this version, because it's also fast and works well. As for modernization, the site has a mobile version too, and it's not just optimized, it's totally compatible with any mobile browser. In the aspect of mobilization, the Evil Angel Live is a bit ahead of the others, because it has a functioning mobile application (currently available for only Android devices).
Otherwise, you can use all usual features on EvilAngelLive too, like adding performers to your favorites' library. You have the ability to check the schedule of the models and apart from the private shows, you can join gold parties too where you and other eager viewers get to tell the performer what to do. One of the most important things about cam shows is the quality of the picture, and on EvilAngelLive has set the standards high, and most performers are using high-quality and HD cameras.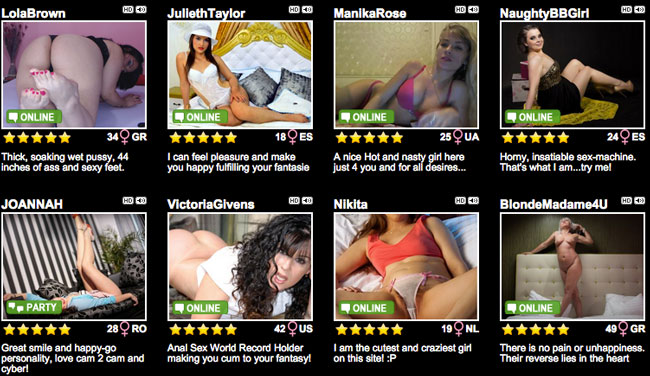 Evil Angel Live Contents
As many of the live cam sites, the Evil Angel Live also offers you a large number of performers, presenting an outstanding variety of girls and guys to choose from. This is the main attracting power of the live cam sites, because apart from the professionals and the pornstars, you can also find a huge number of amateurs and semi-professionals, who may ask lower prices, but perform as well as the pros. In the world of this business, being cute isn't enough; the performers need to feature at least one heavy thing to become really successful, like anal dildo penetration, or a fetish (foot fetish, latex or leather clothes, domination or submission).
There are more than 60,000 models here, and depending on the time, you can usually find about 1000-1500 of them online. Among them, you can find all genders: females, males, transsexuals. On the Evil Angel Live there are two kinds of rooms: nude and non-nude. The non-nude stands for the girlfriend-boyfriend rooms, where you can have a hot flirt or a good chat. Naturally, the nude rooms are the majority, and the shows are varied and exciting. The girls represent all kinds of women: there are fresh girls and mature models, skinny chicks and chubby wonders, and if you are looking for ethnic gals, you may find here not just Latinas, Ebonies and Asians, but also Arabic and Indian girls happen bound to be found here. On the male line you may also find a great variety, in ethnicity and age too; the sexual orientation of them is varied, and you may enjoy the shows of gays and heterosexuals.
On the Evil Angel Live, there are no porn videos, though some of the models have their shows recorded and many of them shot teaser clips that play when they are not available. As for the quality of the video stream, there is good news. Many of the models are switching to more professional equipment, and as you can see it on their thumbnails, there is already a large number of performers with HD cameras, and those who don't have so expensive equipment can offer you a near-HD resolution, which is quite enjoyable, and you can finally forget the lagging pixelated streams of the 90's and early 2000's. So, what happens during the shows depends only on you. If you have a fantasy you would like to come to life, discuss it in free chat, and when you come to an agreement, enjoy your own personal show.

month: –

trial: –

year: –

month: –

trial: –

year: –

month: –

trial: –

year: –
month: –

trial: –

year: –