Emo Sex GFs Overview
Are you living an emo lifestyle? Or are you interested in emo guys lifestyle, but you haven't seen how the emo do their sex game? Do you want to see the difference that the emo lifestyle can bring when it comes to getting pussies wet? If that's the case, then you should watch out for Emo Sex GFs.
Emo Sex GFs Features
The website is user-friendly as you can browse through all its content with ease, and without any bug report or any failure. This website also works well in computers as well as on most mobile devices like android and apple devices, without any problem. For the emo fans will be attracted by the website's look itself, as it contains plenty of colors which brings the goth feel immediately after visiting the website. Here, you will find links to few other pages like members area, get access, submit your staff and bookmark us.
This website contains video captures that shows what emo is, with girls wearing too many eyeliners, having crazy tattoos, colored hair, wearing too much makeups and many others that are seen in those video captures I would say this website succeeded in building and an emo feel to their viewers, basing on the website's look itself. In this website, there are no things like model stories or scenes stories. Also in order to view the content of this website you will have to be a member first.
Being a member of this website also grants bonus access to other sites in their network, so you will be able to explore even more into GFs niche, download and stream whatever you like without any limitations and disruptions. Membership in this websites can be renewed over and over again.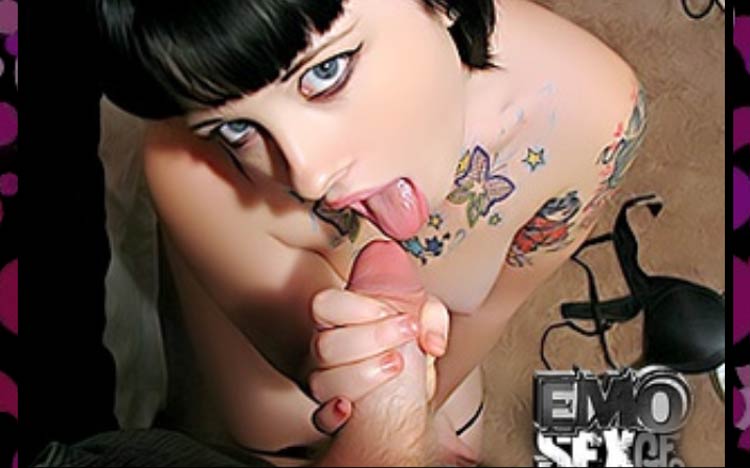 Emo Sex GFs Contents
Like many other porn sites, this website also provides streaming and downloading options, without any per day limit. There are over 277 videos on this website, and most of them are submitted by the users, thus they are not having standard duration length. These videos come in two formats which are MP4 (640 x 360) for the download option, and Flash (720 x 400) for the stream option. On the website, there are also over 166 galleries with around 50 pictures in each one of them.
Since this website is a part of a network, you will gain access to even more content, including HD videos, all available for downloading and streaming.
Scenes in these videos are
mostly
softcore
and amateur, but for the hardcore fans should not be discouraged as there are also some hardcore scenes.
In these videos a lot of different stunts and styles are performed, also almost all sex positions are used; it's a good site for those who like to have different porn categories in one place, as there are things like blowjobs, ass fucking, cum shots, facials, pussy sucking and pussy fucking, just to mention a few.
Most of these videos are acted in bedrooms, bathrooms, sitting rooms, hotel rooms and others, which are places where most couples get to fuck each other, thus if you have your partner, you can visit this site and see what
these
emo
GFs
are doing and do the same.

month: $34.95

trial: $1.00

year: $7.50/mo

month: $34.95

trial: $1.00

year: –
month: $29.95

trial: $1.00

year: –