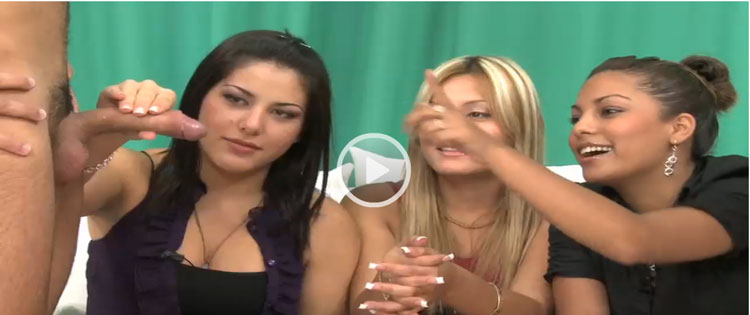 CFNM Show Overview
Have you ever been at the park and suddenly you notice a group of girls surrounding a guy and making him do weird stuff? If you have then you already have an idea of what the site clothed female and naked males or CFNM is all about. Some women just love it when they can mock a guy and make him feel inferior. Imagine a female all clothed playing with the dick of a guy who is very naked. Seems a strange site but at CFNM Show you are going to be seeing a lot of this and even more. Miss Pepper and her gang of girls are bent on making the men feel demeaning and controlled. It is all about convincing the guys to do some really weird stuff in front of the girls and the camera. CFNM Show is a show that has as its host Miss Pepper. Miss Pepper goes around town with her camera crew and does her best to interview guys and get them to accept to do some weird things for her and her friend. The idea here is that the ladies will keep their clothes on but the guys will take theirs off. As they stand there naked, they are surrounded by all these pretty looking females all ready to tease and taunt them. The ladies will make fun of the guys. They will tie a string around their penis and pull just for fun. These girls are mean and do not mind when they are all fully clothed and the guys are left naked waiting to be told what to do. Most of the scenes shot for cfnm are shot in some really nice public location. As you will quickly notices, most of the ladies are well known porn stars. They are happy to play with the guys but sometimes they manage to let the guys have their reward by taking up their dress and letting the guys fuck them. Note that even if the ladies accept that the guys fuck them, they never take their clothes completely off. The site videos are shot to reflect reality with the videos mostly starting with street interviews that are meant to find new recruits for the site. Once they get guys who accept to take part in the program, they do mean things to them. They will even use a naked guy as a dinner table as they go about their business. If you are interested in the clothed female naked male series, then you can join Miss Pepper and her group of friends to make fun of the guys. This will cost you a little as you will have to become a member. If you are not yet sure about whether this site is or you, you can take out trial membership to help you appraise the site. Once you are sure, you can choose between the one month and the twelve months membership.
CFNM Show Features
CFNM Show makes use of a lot of thumbnails on its home page as a major attraction. Of course the girls are having a party and if you want to join, you need to be able to find links to the parties. These links are present as thumbnails on the home page. Once you click on any of the pictures, you will be taken to the party proper. At the top of the homepage you get a few tabs that include, latest updates, welcome videos and members. If you are already a member, you can click on the member tab to access your member portal. Those who are interested in seeing the latest updates on the site can click on the appropriate tab on the main menu. For those who are new to the site, they get a welcome video to help them get a taste of what the site is all about. There may not be too many fancy tools on the CFNM Show site but at least you can find your way around without trouble.
As a Bang Bros site, you will have to go through the Bang Bros site to access the CFNM Show site. This also means members of CFNM Show are also allowed access to other sites on the Bang Bros network.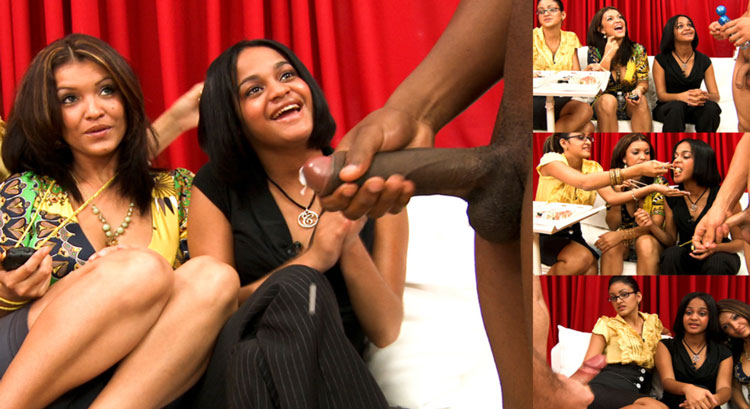 CFNM Show Contents
The models on this site are professionals who have been around the porn industry for a while. They are all classy and glamourous with bodies to die for. They are great at teasing and they know exactly what they need to do to get a cock erect in no time even in the type of situation in which the guys find themselves on CFNM Show. While these ladies may allow some skin to show, they will never take off their clothes. They may sway their hips and show some cleavage to the men in a bit to get the men turned up but that is as far as it goes. The idea behind CFNM Show is that the girls remain clothed while the guys remain naked. It is like one of those wild bachelorettes parties that you used to attend back in the days when a guy was brought in to entertain the girls. The only difference here is that on CFNM Show, this takes place outdoor in public places. The men are coerced into doing ridiculous things for the girls. There are scenes where the girls tie a rope to the guy's penis and pull the rope in turns. After these guys are taunted until they can take it no more, they are rewarded with some oral sex that often ends up with the girl having a facial. The videos on this site are available in hd format and can be streamed or downloaded by members. There are over 30 videos on the site and they each have their photosets.
month: $29.95

trial: $4.00

year: $89.95