Alison Tyler Overview
Let's dive into the world of Alison Tyler and see what she has to offer to the world. First off- Alison Tyler is a writer who seeks to arouse the lion inside by use of words and stories that will drive imagination wild. This website is dedicated to informing more about Alison and her works. Anybody who loves a good erotic novel will be happy to read some of the books written by this author.
Alison Tyler Features
This is a simple site that has a banner showing part of a model's face. This model has goggles on but is looking at the camera above the goggles. Above this banner you will find five tabs each taking you to different sections of this website. The website has a black background and the text is displayed primarily in blue, though there are several parts written in other bright colors like light green, red and pink. The first tab is the Home tab and it is the first stop after confirming that you are above the age of 18. This page has the banner described above, two images of Alison Tyler's books on either end of the screen and the middle section has reviews by renowned individuals and publishers. All these reviews speak highly of her work which is no doubt a masterpiece. The next tab takes you to the 'Bio' section which gives information about Alison Tyler. This is a page dedicated to telling the reader more about the writer and it even has her image on the left hand side of the text. This page is where we get up close and personal with Alison and learn a little bit about her likes and dislikes, her personality, titles to some of her published works and even what some other people have said about her. The third tab is the 'Books' tab and this is where her published works go. Here, you'll find links to where you can find the more than 50 books written by Alison. A majority of them can be found on Amazon and the covers are shown here in full detail as they will look on the book. You also get links to blogs where you can get descriptions of the different series and the books within the series. From cheating to kinky sex, Alison has written about it all. Next is the blog tab that takes you directly to Alison Tyler's personal blog that is "rarely clean" in the words of Violet Blue. However, one thing is clear from all this: Alison is one hell of a writer. This is evident in her posts and after reading just a few of them, I just can't wait to read her books. The blog gives a sneak peek into the books and sometimes even a peek into Alison's brain. The final tab is the Buzz tab that gives you the chance to know more about Alison Tyler by reading transcriptions of interviews done by different people. This is a place where you can read her thoughts about her different books hence is a good place to start if you are wondering which book to start with. The website is mobile friendly hence it can be accessed from anywhere on tablets or smartphones.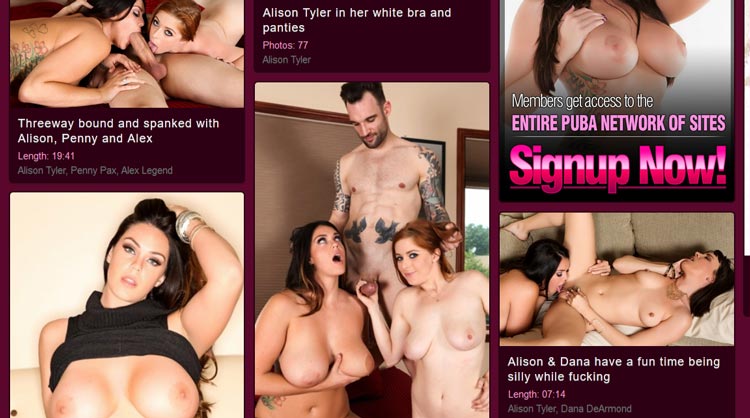 Alison Tyler Contents
There is no membership required to access any part of this website. Everything on the site is freely accessible to the public. However, to read the books, you will first have to buy them. The site has all you need to decide if you will buy the books or not. Once you have decided, you'll also get links to where you can find and buy the books.
month: $29.97

trial: $5.00

year: –