TS Seduction Overview
I am a straight guy, who loves straight porn. However, every once in a while, a thought enters my mind: straight porn is not enough to give me that domination porn that I am craving for. I have been dreaming of this type of porn for a couple of days now. I am currently craving for watching porn including men, under the complete mercy of women, and I've been searching for these types of videos for the past few days and have failed…until now.
We have finally found a porn site that has some tough enough chicks to push a guy into submission. And why, do you ask? Because these ladies have dicks and can also fuck the hell out the dudes! We are not talking about gay porn here, but if you are a big fan of gay porn then you might want to take a look at our other reviews. We have also found a lot of awesome gay porn site that you can visit. What we are talking about today, though, are transsexual or tranny porn. Yes, if you are looking for some sweet bizarre porn then this review is perfect for you.
The porn site that we are going to talk about today is TSSeduction. TSSeduction is just one of the porn sites by the prestigious Kink adult network. Chances are, you have already heard about the Kink network because they have been in the porn industry for quite some time now, but if you haven't, the network is actually one of the best resources for fetish type of porn sites. In fact, I honestly believe that they already got everything covered.
First, their porn sites are divided into different categories. These are BDSM, Fetish, Gay, and Femdom. The porn site TSSeduction is listed under Fetish along with other interesting porn sites like Ultimate Surrender (where you are going to find awesome fighting chicks), Foot Worship (obviously intended for those who have feet fetish), and Everything Butt (which is perfect if you love anal porn).
Also, they have an entirely different category for Kink-related sites, like Behind Kink, where you are going to find all their juicy behind the scenes footage, and Armory Studios. Yes, Armory Studios is where they shoot all their scenes and all the porn fans can visit anytime. You may simply buy tickets or book a tour via their website.
TS Seduction Features
Now let us talk about the website design of the porn site. To those who are familiar with Kink, you might be able to recognize the black and red brand of the network – and this is consistently applied across all of their porn sites including TSSeduction. This creates a unifying thread that ties all the other sites together. This is actually an awesome way to let the viewers know that all of their porn sites and content have the same quality.
As for the layout of the site, once you have logged into the porn site, you will be treated to a wide preview trailer. In the trailer alone you are already going to see the high-quality of their porn videos. The clarity of their videos is amazing, and it is really apparent that all of the scenes were shot in a world class studio.
Below the wide trailer, you are already going to see their different thumbnails. They are divided into three groups. These are the Latest Shoots, Featured Shoots, and the featured Kink porn models. Aside from those, you are also going to see a final batch of thumbnails, this time, featuring the sex toys that they have for sale. In this way, you and your partner will be able to reenact the scenes that you are watching on TSSeduction and Kink on your own.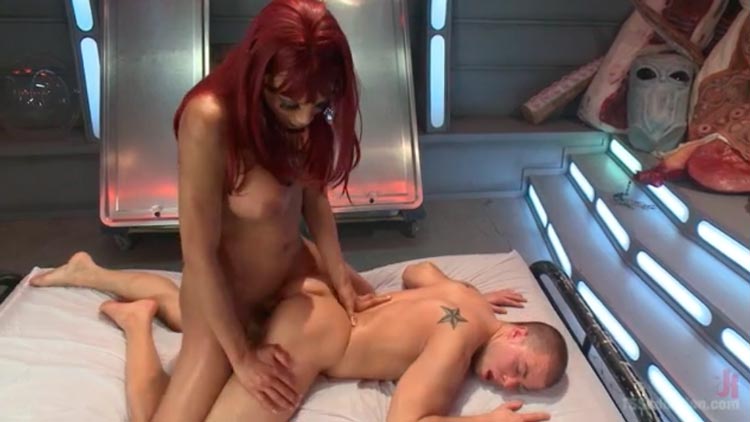 TS Seduction Contents
Let us now talk about my favorite part of the review, the ladies. Remember what I told you above about the reason why I am really enjoying TSSeduction? I was looking for really strong women who can put dudes to their proper place. Well, these ladies are the answer! Yes, they are transsexual, but the ladies here are so beautiful that you would not even know they were trannies without lifting their short skirts to reveal the dick underneath. In fact, they are even more feminine and beautiful than some of the straight women I've seen both in porn and in real life. That's how awesome they are.
In this light, I was really able to enjoy the scenes that I was craving for. These girls, man, they are all around. They can do anything. That's how awesome they are! And they really know how to deal with men, that's for sure. As for the videos, what can I say? All of them are exciting and action-filled. Everything that I have ever wanted and dreamed of seeing on porn was fulfilled and this is the reason why I am really recommending this porn site to all you guys who are of the same fetish as I am.

month: –

trial: –

year: –

month: –

trial: –

year: –

month: $49.99

trial: –

year: $319.99
month: $49.99

trial: –

year: $319.99 – $26.67/mo