TS Jamie French Overview
Sweet darling transsexual hottie, Jamie French has set her sights on the internet to bring about sexy tranny porn like no other.
TSJamieFrench is the hottest shemale porn site of the tranny sweetheart Jamie French. Armed with legs that go for miles, feet that could turn anyone into a foot fetishist and a face that could melt your heart, Jamie is a transsexual superstar that could outplay all the others. You will be treated to amazing photo sets of fetish galore and intense hardcore videos that will make your heart race. TSJamieFrench is a blessing to all tranny porn site lovers out there.
TS Jamie French Features
The porn site looks and feels just as sweet as the main star of the website with its candy colors of yellow, blue and pink and its light-hearted look and theme. Of course, only the colors will give that sense of playfulness as Jamie herself has a whole lot more planned to show us all. The home page gives us a preview of what is to expect in the site. A short description written by Jamie herself can be found on the left side of the page where she describes in short and sweet detail of her being. Below that, a Twitter feed preview of her twitter can be seen where she shares little snippets of her daily life as she tweets rather frequently with topics that range from anything under the sun to of course her range of work. The main detail of the home page is the recent updates which fill up most of the space as it is a preview of her most recent work. Currently, two can be seen at a time with a preview photo to match the video. The video's duration, title, and other descriptions can be found with it as well in case you want to check that out, too.
Most porn sites today make it a point to give a free tour of the porn site to all as it gives newcomers a general idea of what to expect from these beautiful creatures. The free tour for this site, in particular, is modest as it also shows the other more recent updates that the site puts out. The same format for each update applies to the one on the home page. A brief description of benefits to joining the site can be found on the left side this time where Jamie tells us that we are to be treated with high-quality photo sets of her in anything you can think of, may it be lingerie, sexy latex, cosplay, and others.
Becoming a member to her site means you are given access to her other networks where you would be able to see her show off her other sexy skills. Within the website, though, you are given a sneak peek into Jamie's own personal life, too. The twitter feed gives us a little glimpse of her daily life with sexy posts here and there. Here is where you can check how she communicates with her fans and she does do a great job in replying to them. Updates to her content are done weekly so expect some juicy material to pop out from her feed every now and then. This girl is a fetish master too so you won't be surprised to find her other side where she shows us just how kinky she can get. Bonus goodies include access to her own original music which she herself records, drawings from her and her fans and other fun activities that she'd love to share with her adoring fans.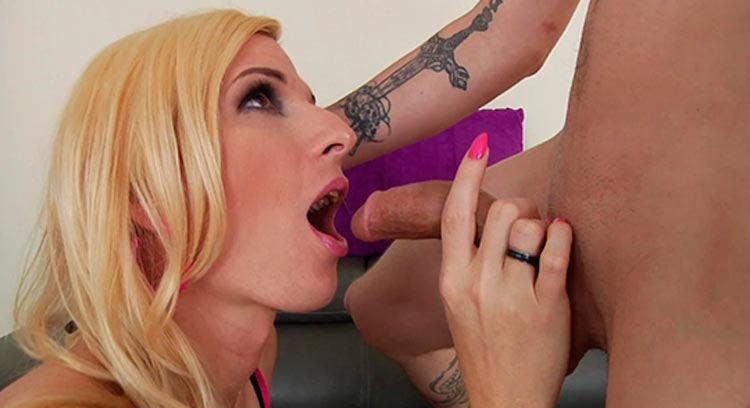 TS Jamie French Contents
Jamie French is the transsexual fetish protégé that this world needs to see in action. A tall girl standing at 5'9, this blonde bombshell does not only have the looks but also the skill to break any man's abstinence just by looking at her. A darling whose personality is like a beam of sunlight, Jamie likes unconventional things and is an avid foot fetishist and a submissive latex enthusiast. She has this tasteful love for things that aren't for everyone and of course, it just makes her more desirable to the eyes of her onlookers. A beautiful shemale in her own right, Jamie shows us just how sex is done the right and fantastic way.
One of her recent
updates is a two part series of her with a ton of other sexy transsexuals just like her. This amazing video pumps you up with so much lust and brings your libido into ridiculous heights. Jamie is but one starlet in this but you can't help it and find yours
elf watching her every move when the camera shows everyone. Take some time to check out that amazing piece of work entitled Trans6uals II on her site to see some amazing dick sucking, ass banging, foot fucking action that's sure to make you cum time and ti
me again.

month: –

trial: –

year: –

month: –

trial: –

year: –

month: $19.99

trial: –

year: $120.00
month: $18.95

trial: –

year: $111.95