Tranny Pros Overview
Very often when you are searching for solid porn sites that will provide you the kind of satisfaction that you crave, all you are seeking is a porn site that is different, has regular updates, is easy on your pocket and has a diverse range of porn videos that will give you an awesome jerk-off experience. Of course, there are hardcore porn videos, lesbian, BDSM, anal, blowjob, and many others. How about tranny porn? Wouldn't this intrigue you? Isn't this a niche that is under-represented in the world of porn? This niche seems to be interesting enough to catch your attention. If you are wondering if there is any such sexy site focusing on an interesting niche such as tranny porn, then don't worry. TrannyPros is there, coming to rescue you.
TrannyPros
is a
porn site that features exclusively transvestite porn material, which will enable you to explore the world of pornography curiously. On this site, one can find some of the most attractive and perverse porn stars who are happy to do what they are doing and
will go just at any length to satisfy their partner as well as your cock stuck in your hands. Masturbating on the porn movies found on this site will be something uniquely different from what you are used
to
watching to until now.
If you want to find
out
more ab
out this awesome site and why you should subscribe, stay with the review and gain a deeper insight into what
TrannyPros
is like. By the end of the review, you will be able to reasonably subscribe to the site and enjoy its content.
Tranny Pros Features
When talking about a particular layout of a site, it is crucial to mention that layouts play a huge role in the overall performance of the site, thus contributing to its quality content and functionality. TrannyPros features a layout that combines both aesthetic values and technical support into one entity and allows visitors to have a full access to the content presented there.
Upon your entering the site, you will find that the videos are well ordered and organized very clearly, which provides enough space for each video to be explored individually. The site has over 600 tranny porn videos that are updated regularly. On the videos page, there are 20 such videos arranged in a neat grid format, with 31 such pages. The thumbnails have a title, the date of uploading, the duration of the video, number of likes and dislikes and the porn stars featured in the video. You can toggle the grid based on the latest updates, most viewed, upcoming and highest rated. You can also search the videos based on porn stars and categories.
Another important thing about the layout it's the aesthetic feature it provides to the overall appearance of the site. The color scheme used to support the layout is simple and clear as it contains crimson red and black, with black as the background color for the site's body. The crimson red is used as the color of the tabs that you see at the top of the site. These two colors are visually appealing because of their appearance and connotation, but also are wonderfully combined with the content of the site and set you in the right mood before you even start watching some of the videos. Grey is used as background for the videos from the Devil's Film network, the organization behind this awesome site.
There are about 200 DVDs for you to purchase and enjoy on this site. You can search them based on latest, most viewed, upcoming and highest rated. Additionally, the site offers about a thousand pictures of the sexiest and most beautiful trannies the site features.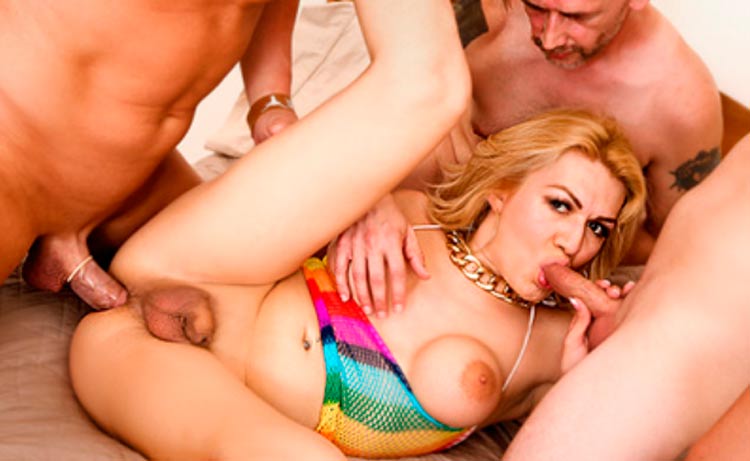 Tranny Pros Contents
The trannies on
TrannyPros
are amazing porn actors and know how to perform in front of the camera. The site is based on diverse porn movies which have different fetishes to offer. Check out the porn-stars section
of the site and you will realize how good they are. You w
ill find trannies from all nationalities and skin colors, as you will be able to search for ebony, white, Asian or any other ethnic group which matches your fantasies the best. All your sexual preferences will be available on this site as you dive deeper a
nd explore each video with great enjoyment.
The trannies on
TrannyPros
have wonderful bodies as well as faces. The trannies are beautiful, have amazing boobs and nipples that can be sucked throughout the night, and asses that can be pounded with amazing en
ergy. In addition to their physical appearance, you will acknowledge that those girls know how to perform and provide satisfaction for everyone involved in the act directly or indirectly. All in all, their visual appealing and knowledgeable performance wil
l make y
our masturbating experience sky
rocket immediately after you access the site and start browsing the videos.
How about checking out a sexy tranny and her amazing performance in a video? Watch out for Rick Fontana and TS
Foxxy
on Transsexual Girlfrie
nd Experience #3. The hot video will put any porn s
tar to shame. The videos feature themes such as
Tranny, Mal
e fucks
Shemale
, Ass to Mouth, Anal, Deepthroat, and Blowjob
. Rick Fontana is a hot hunk, who can make any chick or TS go crazy, and TS
Foxxy
is
not to be left behind. Licking asses, fucking asses and sucking cocks are extensively displayed and enjoyed on this site. TS
Foxxy
has an amazing body, and you will drool over those amazing tits and sexy body. She
's featured
in about 14 videos and has a dec
ent fan following.
month: $8.95

trial: $1.00

year: $85.95 – $7.16/mo