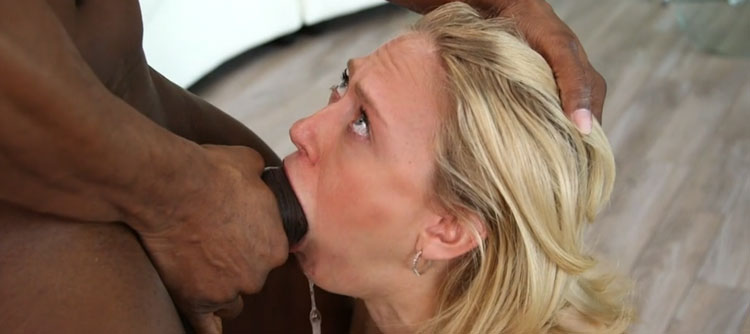 Throated Overview
For some people, porn cannot turn them on if it does not involve some rough action and possibly cringe. They are only happy when they see pussies and asses being ripped and monster cocks invading tight pussies. They will cum hard when the girls cry out for mercy as their pussies are invaded in ways that seem so unreal but yet true. This is the kind of porn that some people like. Fortunately, there are many sites that offer such hardcore rough porn. One such site that offers rough porn is Throated. This is a site where girls are made to take the biggest cocks into their mouth right down to their throats. Note that we are not talking about girls giving a blowjob. There is nothing close to a blowjob here. It is all about face fucking and deep throating. When you see the size of the cock before it is shoved into the girl's mouth, you will never believe anybody will be able to handle such invasion. However, these dicks are shoved into the mouths of the girls and even if they struggle to resist, they are made to take more cock. It is not unusual to find tears running down their cheeks as they are assaulted to the maximum. Funny enough, you will think that the girls will not want to take any more cock after being this assaulted. To your surprise, they will be jumping on the next big cock and getting ready to take it in. Even if they gag on the cocks, there is no problem. The important thing is that they get it down their throats and keep it there. The roughness with which the men fuck these girls mouth will leave you feeling so horny you wouldn't be able to continue watching without first unloading your balls. They are rough and they fuck the girl's throat like their lives depended on it. All the while the girls are gagging and struggling to breathe. Yet these men just continue banging until they spurt loads of cum straight down into the girls' throat. You just have to love the way spit flows from the mouths of the girls as they struggle to take the cocks all into their mouth. They even manage to look hot and sexy even as their mouths are assaulted. There is so much going on on this site to keep those who like it rough and hard will really keep busy. There is enough content to ensure members never get bored. Best of all, the contents are exclusive so members are sure they will only find it on this site. The high quality of the videos helps make the viewing experience wonderful. Nevertheless full-length videos are only available to members. That means that those who want to get access to full-length videos have to register as members.
Throated Features
The site's layout uses a flash header which carries pictures of some of the scenes in the videos. The main menu is located in the top left-hand corner of the homepage and includes a tab for scenes, a tab for photos, a tab for pornstar and a tab for sites. Clicking on any of this tab will take you to a page where you can find related content. On the content area of the homepage, you will find excerpts from the latest updates on the site. This site can be viewed from laptops as well as mobile devices. You can use the search box to search for content on the site. All you need is to type in a keyword and relevant search results will show up. Right from the Throated website, you can have access to other sites on the Myxxx Pass network by clicking on the site tab. There are over twelve sites to choose from.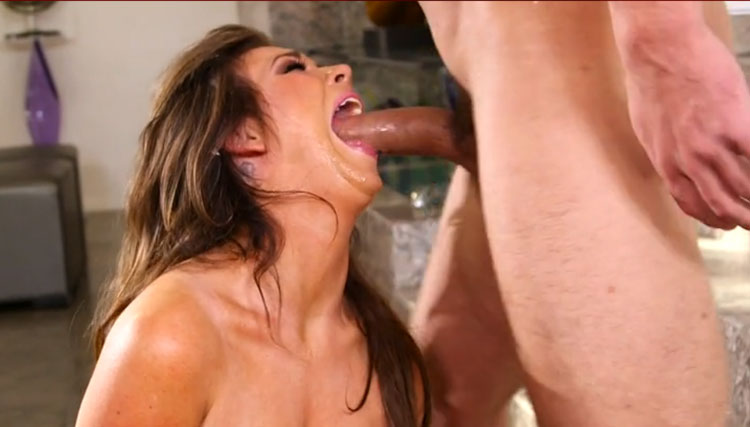 Throated Contents
The models on this site are not amateurs. From all indications, they are professional pornstars with a lot of experience. On the site, you will find some well-known faces when it comes to porn. These girls are pretty, they are hot, they are sexy with bodies to die for. Then again, they are ready to take cock in ways that you never thought possible. They do all of these and still manage to look sexy and passionate about their acts. You will find models like Valentina Nappi and Gabriella Paltrova on the site. You will love Candy Alexa with her well-shaped body and her love for taking two cocks at a time. One video you will definitely love is "BlondeBabe, Black Cock" featuring Kagney Linn carter and Prince Yahshua. In the video, this blonde model who loves sex so much is bent on getting all of the Princes' black huge cock into her throat. Once you click on a video link to watch it, you will also be presented with some recommended videos. The over 500 videos on this site are arranged into categories. There are categories for lingerie, pussy licking, big ass and a lot more. The videos are available in high definition and in other formats. The videos can be downloaded or streamed depending on the user. While you will find videos in different formats, each format has a high and low-quality version. The difference between the two versions is that the high-quality version occupies more disk space than the low-quality one. There are also video formats available that are compatible with iOs devices. Associated with the different videos is video sets. There are currently over 500 photo sets on the site with each set containing and average of 175 pictures. Members on the site can download these photo sets as zip files.
month: $29.99

trial: $1.00

year: $9.99/mo