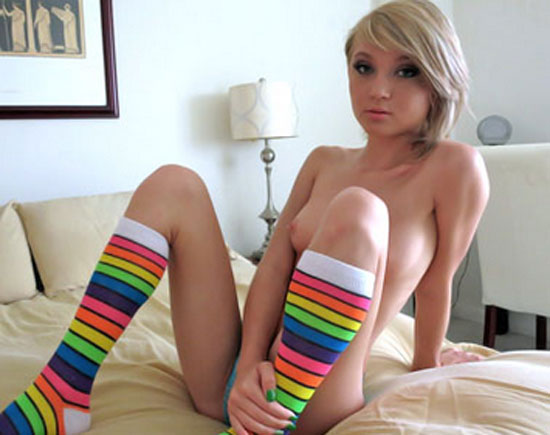 TeenPies Overview
The TeenPies site's tagline is 'fun and full of cum', which is an apt description for a site that presents fresh chicks having sex and then displaying the cum dripping from their orifices. This is the site for lovers of cream pies, newbies, fresh chicks, and oral, anal, and vaginal sex. Not only do you get variety in the sexy games they play, you get variety in the girls as well, including Asian, Ebony, Caucasian, and Latina chicks, and also from blonde to raven-haired beauties. This site has a girl for everyman.
Not only is the variety of chicks have good value, the videos are as well. They're all a desirable length, twenty to sixty minutes being the normal sort of range, and they're all in full 1080p HD so the quality is excellent too. The locations and sets are realistic for newbie fresh chicks, going from dorms or apartments rather than fancy upscale hotels. The site is a member of the Team Skeet network, which uploads new movies and photos seven times per week to keep your 'interest' up, and your membership in TeenPies gets you into the twenty-plus other sites they have. Some of the other sites of the network you'll like, if you like fresh chicks, are 'Her Freshman Year' where fresh chicks leave home for life in the dorm and go wild with their new-found freedom, 'POV Life', which features fresh chicks up close and personal taken from the point of view of the ecstatic boyfriend, 'Step Siblings' where fresh chicks from two different marriages become entangled in their parents' new marriage and enjoy some family time 'with benefits', and 'Innocent High' for those who love fresh chicks in (and getting out of) uniforms and indulging other girlish passions.
TeenPies videos are exclusive to them and come to you without any interruptions or distractions, as you'd expect from such a quality site.
TeenPies Features
The TeenPies site Home page is all about images, more than eighty photos and Gifs on each page and there are more than 120 pages. Hovering over the images gives an alternate, equally explicit picture from the movie so even the 80+ times 120+ is only half what's on offer. The header has tabs for Best Cream, Newest Cream, and Members. The first two tabs give you different ways of sorting their masses of marvelous material.
As a visitor, you can only admire the raunchy pics and fantasize. As a member, you can dive right into each one and watch the action unfold before your eyes. The action on Team Skeet unfolds through unlimited downloads (to save for later) and fast streaming (to watch now) of their more than 20 niche sites, 1300 scenes, and high quality photosets. In addition to watching on your desktop or laptop, they also provide mobile access and a weekly bonus giveaway. Another nice feature of Team Skeet is the 'Suggest Your Fantasy' concept where members can send in their ideas and have them made into movies.
Creampies are something of a true aficionado's niche in the porn world still many networks do carry some pages devoted to it. Team Skeet, by providing a complete site to this interest has done fans a great favor, which should be recognized and supported.

TeenPies Contents
There is nothing better than to blow your load into a fresh girl pussy and on Teenpies you will see the best creampies movies from the web. The models are only very fresh chicks that have such sexy bodies. These girls are splendid and you will love their perky breasts and their round asses. To achieve an orgasm, these girls need a guy to cum inside them and when that happens they climax so hard! One of the cutest chicks from Teenpies is a lovely brunette with a fit body and with amazing blue eyes. She has a new boyfriend and that guy hates condoms. They start to cuck and the man is close to finishing. The chick tells him not to cum inside her, but the guy fills her pussy with sperm and the scared look on the chicks face makes this to be the best porn movie ever! Natalie Lust is one of the biggest porn stars you can find on Teenpies. If you don't know her then you are missing a lot, because she looks incredible. She is a redhead with white and very smooth skins and she has black eyes. That girl is amazing and she has medium tits and a perfectly round ass. The sex scenes with her are so exciting because she always plays the role of the innocent and naive girl that is fucked by some smart guys. She has a pink pussy and all the guys want to stick their cocks in there. Nobody hears her saying that she is not on the pill and all the guys fill her pussy with huge quantities of cum! All the chicks from Teenpies are hot and fresh women that make hardcore sex all day long. See all the movies and those girls will make you so horny! TeenPies has tons of exciting videos and picture featuring fresh chicks in amazing sex positions. All the videos are shot in high definition and have perfect sound to give you an amazing viewing experience of life time.

month: $28.97

trial: $1.00

year: $7.98/mo

month: $28.87

trial: $1.00

year: $95.87
month: $17.87

year: $95.87