Taboo Handjobs Overview
There is nothing in this world that is more unacceptable than members of an extended family fulfilling each other's coital desires. While they may be those members who are not directly related, it is a taboo for them to get down and dirty let alone have sexual thoughts about each other. Hell, TabooHandjobs is an amazing adult site that did not consult culture when making its decision for good entertainment. It is not one of those platforms that promise you unforgettable sexual moments and under delivers. Right from the get-go, you will be able to see the 'Taboo' in it. Made up of a group of sexy models who would go above and beyond to give an unforgettable blowjob to the men who are closest to them, you will truly love the exploding action here. Forget all about the local massage parlor because it has nothing on the action on this portal of endless pleasure.
You will be swept off your feet with every gentle stroke and the site has done a great job in selecting models who are the crème de la crème of blowjob entertainment. Of course, you will get to know that the action is scripted but this is what makes your experience here truly great because the site's directors have gone out of their way to bring you porn action in a way that you could have only conceived in your fantasy and your imagination. You will be impressed by the cast of girls who know what you want and go out of their way to over deliver on screen. Although they talk dirty, they can truly back it up and this is the best damn thing about the action on TabooHandjobs.
The collection that you will get access to is quite big and TabooHandjobs alone can boast of over 300 scenes. In the virtual world of pleasure, this represents one of the biggest collection under the handjob niche. Apart from all of the existing action that is already begging for your attention, you will still be able to enjoy the additional flicks that are uploaded two to three times a week. Representing one of the best Pov adult sites out there, Taboo Handjobs gets down to the nitty-gritty. While you will get to see big cocks, the faces to match them are cut out of the films. This lets you focus on only the most important part of the flicks; the models.
When it comes to browsing, TabooHandjobs is fancy and well laid out. Anytime you log in, you will feel like you have opened the pages of an interesting storybook but oblivious about what you will find. If you have been looking for the best place to get Pov handjobs online, then this is most definitely the place for it.
Taboo Handjobs Features
TabooHandjobs has a members' area that speaks to your sense of exploration. You will truly enjoy all that is in store for you. The simplicity yet complexity of the arrangement here will let you access the platform in the way that you desire. On the home page, you will find even more excitement to dragged into. There is a content list that makes it easy for you to find what you are looking for. The numbered pages load pretty easily and that is the beauty of the site. You do not have to wait for long unending hours.
If you want to get to know your membership details, the top menu of the page will let you know the videos that you are able to purchase. As the site allows all of its members to purchase a single video at a time, the shopping cart is your oyster. You can fill it to the brim if you please. However, worry not. This only applies to non-members of the platform but those under full membership can be able to watch the flicks online. The connection is speedy and the quality of the purchased or the streamed films are consistent through and through.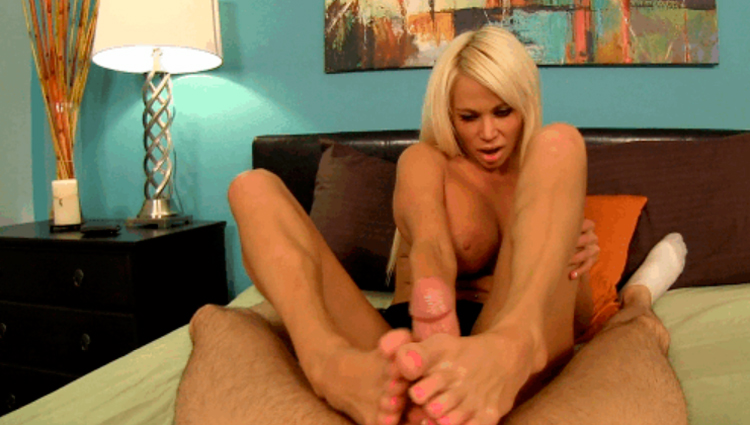 Taboo Handjobs Contents
The models on TabooHandjobs are overly kinky and they go out of their way to let you know about it. The site focuses on people that would have an impact on you such as step sisters, step moms or even nieces. There is a storyline to accompany each and every one of them, therefore, you will be able to know what makes all of them tick. As they should not be stroking the big dicks that come face to face with them, it is evident that they have a 'don't care' attitude that enables them to put bodily pleasure before anything else.
There are lots of dirty talks and the fact that these Milfs and fresh faces aren't ready to use their pussies will make you even more excited; but, a gentle stroke to make you cum is truly out of this world. All of the scenes are Pov and as such, you will be able to enjoy them exactly from your point of view. You will be thoroughly impressed by the way that they stroke a big cock. Some of the models have taken part in more than one scene. Therefore, if you were not able to get enough of they then worry not.
You will be in the company of gorgeous beauties like Zoey Halloway and Sara Luvv, some of these hotties are starlets who are famous all around the porn world and knowing that you will be spending a decent amount of time with them is truly exciting. They know how to bring their A-game at all times and they also know all too well about seducing you until they are half or completely nude and their hands take charge of your dick. If you have ever had fantasies about such naked girls tagging you off then they will surely come to life on this platform. The best thing about these acts is that you do not have to see the annoying guys. All you have to focus on is the models, yourself and a big cock in site.

month: –

trial: $2.95

year: –
month: $19.99

trial: $2.95

year: $99.00 – $8.25/mo