Seduced By Massage Overview
The Seduced By Massage is a hardcore porn site from the guys who run the Porn Mastermind network. When it's about introducing a website, it's usually about telling something about the niches its videos cover, so let's see: the Seduced By Massage offers you videos with some massage, lots of hardcore sex, and gorgeous models from Europe mostly. In these scenes you can find gorgeous fresh girls getting a massage, which ends with a happy ending for both parties. This site launched in 2012, so it's rather new. However there are signs that tells us that it's no longer a running as a standalone series. If you try to enter the site, after the age verification you land on the site of the Porn Mastermind, and among the videos you won't find anything tagged as Seduced By Massage. There is a way to reach the separate page of this series, but it's no use – if you want the best for yourself, you should join through the Porn Mastermind network. If you decide to join, you can get all videos of the Seduced By Massage, and also much more. Those who enjoy watching hardcore sex with fresh, gorgeous models, will certainly like to be member on the Seduced By Massage. The first thing you will notice as a member, is that you get access to multiple sites/series. If you are here for massage-room porn, you will be glad to see that the series of SeducedByMassage is continued, though it's under a different name. The videos that were added to the Seduced By Massage are published throughout the different sites, but they are all there, don't worry. Every video on the site is exclusive. This includes the scenes of the Seduced By Massage series and the majority of the included series' videos too. The updates are regular on the Porn Mastermind, and there is always something new and hot for you to watch, usually a weekly schedule is kept.
Seduced By Massage Features
Since you basically arrive at the Porn Mastermind's home page when you try to reach the Seduced By Massage, let's take a look at this tour page. It's quite certain that you won't have any troubles with browsing, since it's a pretty easy to use page. The top features the menu, where you can find the link to the videos, the girls and the included sites. Also the live cams are available, though the menu only takes you to the appropriate page if you are a member and you are logged in. In tour mode, you can browse a lot on the site, and there are several previews you can watch. However, the main sources of insight are the picture, because the previews have a big bad text on them, which is pretty much annoying. Fortunately, when you log in the layout won't change, so if you are already familiar with the site's usability, you won't have problems navigating. There are two menus inside: the main menu, which remains on the top, next to it, there is a dropdown where you can change the site you want to browse; a secondary menu is located under the dropdown. This second menu has mostly account-related options, like My Tags and My Favorites, but you can find here the link to the Search page, the live cams and the promotions. The search engine is rally basic, but it might help you find your way around the content. Maybe the best way to browse the videos is to open the models' list and take a look at these gorgeous girls. All videos of the Seduced By Massage are in MP4 format. When you open a scene's page, you will see the player, which is surprisingly good: it loads fast and doesn't use up every power of your computer. Some scenes offer HD playback online too, but the majority is only in normal definition. In case you want to save the videos, you can easily do so, since there are download options for every scenes. The files are MP4s, and they offer even Full-HD quality where it's available. There are hot high-resolution photos added with the scenes, so in case you are looking for a good wallpaper for your computer, or other devices, you can find here some hot material. Zip files are also available.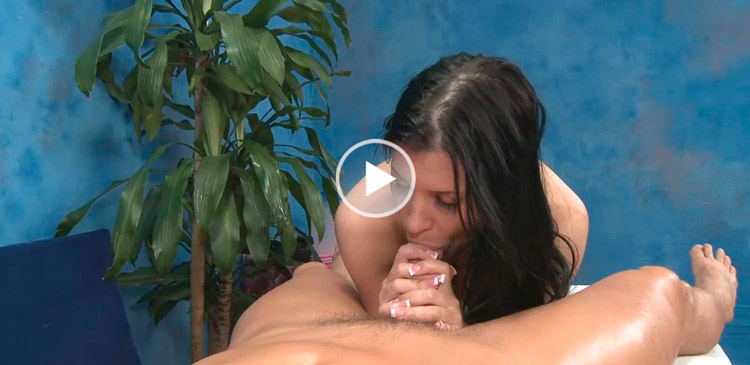 Seduced By Massage Contents
Every model here is a professional porn star. Though the Seduced By Massage series feature lots of European cuties, you can find among the site's (network's) models lot s of amazing US chicks too. Many of the models are natural beauties, and since most of them are under 25, they are still fresh and eager. However, the Porn Mastermind has a very mixed compilation, and apart from the barely known cuties, you can find here upcoming stars like Dillion Harper or girls with an established porn career like AJ Applegate. The models' list is mixed up and though most of them are Caucasians, you can still find among them other ethnicities, like Latinas. Now, the videos are all staged, but they are not scripted, and you won't find see too much talking in them. There are no returning gimmicks, the couples usually get on with it really soon. The Seduced By Massage's videos may feature some talking (warm-up chit-chat only, nothing serious), but if they are in foreign language, you should just skip since there are no subtitles. These lengthy videos feature a short massage session, and when the girls are wet and horny, they start sucking that cock and after a while they are going to get drilled. Since there are many European videos, you can expect some juicy anal sex too.
month: $39.95

trial: –

year: –