Russian Fake Agent Overview
If it is reality porn you seek, Russia has some pretty neat ones stored up for you. I do not know the beef between Russia and reality porn but they seem to be working hand in hand, making the porn universe even more badass than ever. 
Reality porn works wonders and it is sort of rare to find really good ones these days as the internet has been plagued with horrible types over the years. For Russia, the need to supply the rest of the world with their take on such genre is dire and when you have gorgeous girls to flaunt and an even more desirable plot, you can provide goodness in every porn film you make.
This is exactly what RussianFakeAgent offers their viewers. A reality porn site with the perfect side dish of beautiful ladies and a rather conniving guy who lets us in on how he does the deed. Specifically saying, this particular porn site dominates at making reality porn, hardcore sex, and porn videos (in general). I say only few could par with this one. For RussianFakeAgent, the streets of Russia are packed with cuties that could get their huge break above anything else.
Launched in April 2014 and under the management of the Private Media Group, this adult site has done well over the past few years it has been around, even winning awards here and there. RussianFakeAgent makes a great statement and when you come across it, it is rather hard to just breeze through – you just have to stop by and enjoy every bit of pleasure it brings on your table. With this reality porn site bringing the best out of everything, you are sure to enjoy and even want some more. Great plot, gorgeous girls, and one mean audition chair, this smooth porn site is surely pleasing to the eyes and to that raging boner.
Russian Fake Agent Features
RussianFakeAgent is a pay site that will require a monthly fee once you are registered. Registering is easy peasy and you can do so with just a few clicks from their tour page. You will just need to input some information that I am sure you are all familiar of and choose the payment plan you wish to go for. There are plenty of these ranging from one month, three months, or six months. There is also one that goes for a year. There is a trial version which lasts for 2 days but the content access is limited, going for only one or two viewable films during that allotted period of time. Moving on from there, you will have unlimited and unrestricted access to the entire site, and you can do so much as well. 
First of all, the site design serves a valiant purpose of letting the members of the site feel relaxed. With its simplicity, candor, and directness – thanks to their black and white motif – the site is an absolute joy to scour through. The lack of adornment is something really positive for me because I could never stand heavily decorated porn sites. I love just being able to watch my porn without the glittery substances hurting my eyes, thank you very much. The site's navigation is straightforward and very easy to understand, and the user interface is very user-friendly. Overall, the site has a good feel to it and very good features help make it a better porn site. 
The links you will need during your stay here are located simply at the very top of the site. The 'Home' button will take you to the main page where you are going to see a bevy of video thumbnails that contain both the film's title and the time stamp. You can also see how the films are rated and how many views there are. The 'Stars' button will take you to the model index where you are sure to find the list of your favorite Russian beauties. Under their individual portraits, you can see their names and their ratings. You may also rate them yourselves if you wish to do so. Clicking on a certain girl's portrait will take you straight away to a page where her scenes can be accessed. The site does not support any photo sets but video caps are made available and they are all in high resolution. As for browsing details, you can get through here very easily because the site has an advanced search bar and a rather detailed sorting contraption. Sorting can be done using the contents' dates, titles, and ratings. 
Also, you will have free access to at least 12 different other porn sites that belong to the same network. Check these ones out as they are all hardcore.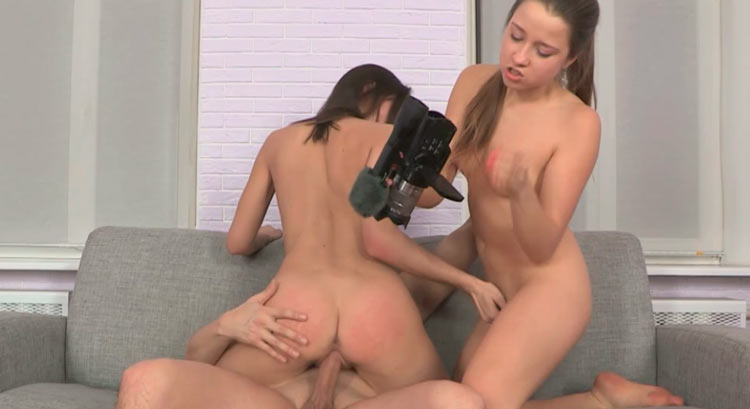 Russian Fake Agent Contents
The girls on this porn site are Russian, hot, and clearly super fresh. Plenty of them are blonde, but some of them do fall in the redhead and brunette category. Either way, they are all gorgeous, attractive, and quite the bombshells. Picked up fresh from the busy streets of a Russian city, these ladies will soon get to taste something that will change their lives. The guy pretending to be an agent and offering these girls a huge break on their "careers" may not seem like the most charming prince but he sure does get the ladies to do his bidding – all in the comfort of his homey studio. 
There are almost 60
full-length
videos on the site and counting. Updates are happening weekly and I think that is a really speedy time frame. The videos last for at least 40 minu
tes, sometimes longer. All the content here is in high definition, having a 1920 x 1080 pixel resolution. Yes, that resolution applies to all the films here. You may download them in several formats like
mp4
or
WMV
. You may also just stream them on your br
owser provided you have an updated Flash player. The videos can be rated, commented on, and added to your favorites.

month: –

trial: $1.00

year: –

month: –

trial: $1.00

year: –

month: –

trial: –

year: –
month: $29.95

trial: –

year: $149.95 – $12.30/mo