Phonemates Shemales Overview
A top hot shemale porn site is Phonemates Shemales. It is the go-to place for kinky stuff, hot shemale sex, and live interaction. The models are varied and they all like to please the viewers. It is a great place to enjoy shemale porn scenes. They have great scenes and pictures you can watch from anywhere, even from your mobile device.
Phonemates Shemales Features
Phonemates Shemales has a very simple layout. The models that are online are shown in about 30 results per page. Depending on how many there are online at any given time, the number of pages available changes. There is no complex menu but there are 2 very in-depth sorting options. Viewers get to filter through things like region or language. You can also hover on top of the thumbnails and get access to links for bios of the users and pictures or video archives. Advanced features expand the categories even further. For example, you may choose to display only new models, only high-quality videos or maybe live shows. The choices are many and the process is simple.
The live sex feature and interaction with models are there to fulfill certain fantasies. For people that want a more personal experience, this is as close to the real thing as possible. The site was made with mobile users in mind. Most channels are accompanied by a note that shows whether or not it is new, popular etc. Phonemates Shemales is not exclusive to PCs or tablets. The lower quality and resolution, when compared to big company productions, was tailor-made for mobile users. It allows them to have a faster interaction with the website. It's also free to become a member from a mobile device. PC users have to pay a fee, but it is a pay once get a lifetime membership deal, and this is both rare and great.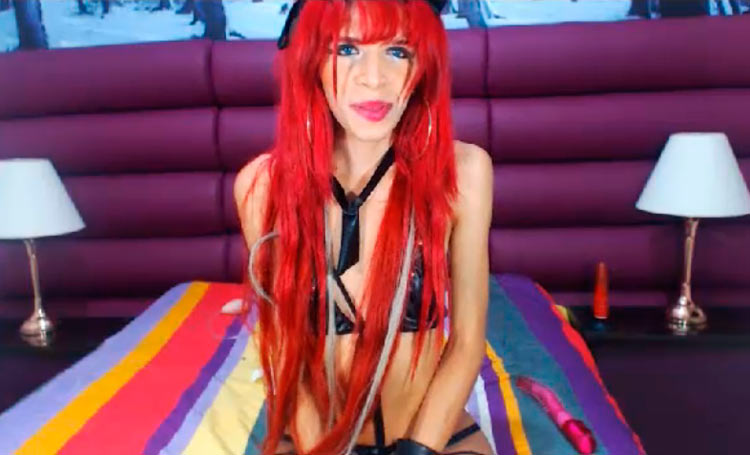 Phonemates Shemales Contents
The models are from all over the world. Depending on what time you log on, you'll usually find hot shemales of a specific time zone. It's best to keep that in mind if you spot a favorite and don't want to miss the next show. The 2 most popular categories and body types you'll find are big titted shemales or big cock shemales. Of course, you can filter by ethnicity from Asian to black to Caucasian and whatever else you can think of. But the most searches seem to go towards the previously mentioned body types. Skin color never mattered too much in porn. It's the size of certain body parts that makes the difference.
There are some models that stream in high quality but don't expect HD, 4K or anything close to that. In general, the quality will be better on more popular channels. For mobiles, this is more than enough. For PC users, having flash installed is highly recommended. It's hard to make HD quality webcam footage and stream it at high speeds and I personally wouldn't ask such a thing from amateur models. All technical specs aside, these shemales know how to work for a crowd. As far as shemale xxx sites go, Phonemates Shemales delivers some of the wildest sex and solo scenes.
"This site is no longer updated, but you can visit the great selection of the top cam porn websites."

month: –

trial: –

year: –
month: –

trial: $4.95

year: –