Mythic Women Overview
Mythic Women promises you some really unseen content of beautiful women wearing some eccentric costumes and playing out the role of dungeon mistress, slaves as well as guardians of some unknown or imaginative part of the world. They love to put on a show for you and take you to a world where eroticism and seductiveness are considered as objects of worship. The materials are exclusive and are shot with wonderful HD cameras. You will highly be impressed by their display of costumes and the way these chicks pull off their roles. There are also behind the scenes footage and pics. There are about 12+videos and about 115+ galleries to fest your eyes upon. Each of the galleries has about 60 pics and each of them is stunning in lightings, contrast as well as their other crucial specifications. The additions are promised to be given two times in one month and they are true to their word. The site was set up in 2012 and in 4 years has gained a lot in terms of its popularity. However it is still growing bit by bit. Let us check some of the thumbs up as well as thumbs down facets of the site. Read on to know about it.
Mythic Women Features
The site does not blow you off with its design or look, but yes one thing which will say is that the simplistic nature of the portal is quite eye-catchy. I for once was impressed with the no- nonsense presentation of the site. There are numerous sites which you will find being stacked with stuff which are complete absurd and meaningless- such as excess advertisements of promotional ideas. But here you will find a clean and neat website and with stuff which you are concerned about. The menu options are clearly displayed at the head of the home page and using them you can check out any part of the site without any hassle. Just like me, you will find that the site is good in responding to whatever clicks or requests you throw at it and so on your every click, you can expect a suave response- This is in fact what accounts for the smooth ad breezy navigation. The brief description and the left-hand side high res slide show will prove to be a perfect introduction to the site and its content. There are plenty of thumbnail which are stunning in picture resolution but I personally felt that they could have been a bit big in its size. However the thumbnails are presented in organised manner and you get the feel that you are inside a site which believes in cleanliness. There are no videos on the home page which was a bit of a disappointment but you will find an additional link which will take you to the page which has it. The streaming speed is impressive and that will enable the videos to play without much hesitation. The download speed is also great and you can enjoy them in a host of different download formats. The portion which you will love the most is the update section as it contains all the primary facts of the site, its latest happenings which is going to take place and also the girls whom they have added to their exclusive family. The membership previews are grand like if you desire to have one, visit the join up page and spare some of your personal facts such as your name, a username with a password, your zone as well as your country and off course your mode of communication which your email address. You will next have to choose a subscription from the options lined up below and as that is done, simply send out the request to the site. A positive confirmation will enable you to check whatever is presented in the various pages. The payment mode is via cheque, credit cards or debit cards. The customer care service is also quite good and will always come to your assistance when you face with issues regarding your account as well as your latest payment. The updates as per the members are said to take place twice in one month and though is not that good as compared to some of the other sites in the realm, it is makes sure that they do take place on its mentioned time.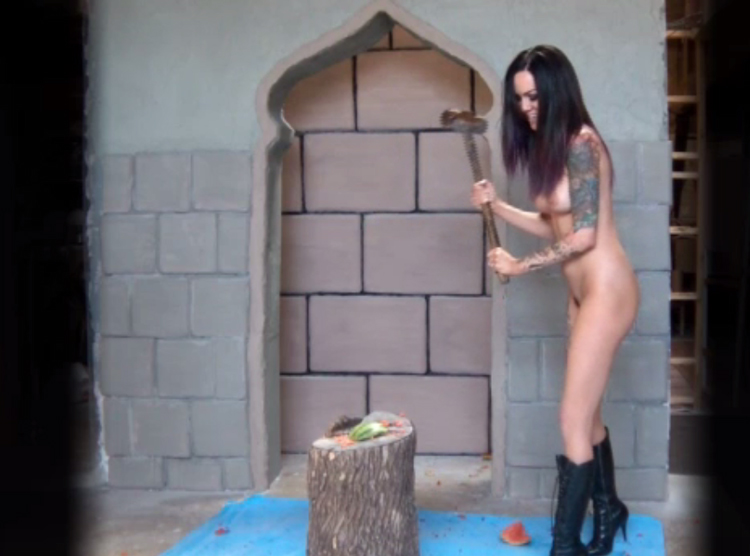 Mythic Women Contents
The site is filled with models who are beholders of wonderful looks as well as figures. They differ in their peculiarities as well as their skin colour and also in terms of their geographical location. You will find girls who have innocent looks and hence they are assigned the role of princess who have been held captive in some cave or dungeon. Then there are girls who are a bit curvy and seductive by nature and hence they are given the role of temple priestess and they either solo or duets will be seen carrying out some unknown ritual in mesmerising manner. You will also some across some proud women and because of their nature they are given the role of warrior princes who have the ability to wield swords or sling spears. They will also be seen wearing some armour of combat two pieces where you can get a wonderful display of their breasts and their ineffable figures. Such women will also be seen as Buxom barbarian women who seem to roam around places of some unknown country. Lastly chicks that have that fiery instinct as well as some wildness in their nature, they will be allotted the role of some dungeon mistress or guardian of some plains or an arch way and they will also be seen having sharp razors scimitars in their hands. These girls are also great actors and will be seen steaming up the action and giving you an ample opportunity to masturbate. The site is mainly a cosplay or soft core lesbian site and so you will not find any hard core fucking- which is such a shame. But the action does prove to be more that sufficable for your titillation needs and the fact that each of them are in 1280x720p HD formats they prove to be wonderful stimulating spectacles. The videos are easily downloaded in MP4, AVI as well as WMV formats and each of the videos run decent lengths. The streaming options are also available and they can be played as flash files. The pictures are great for wall papers and can be obtained by downloading them as zip files or viewed online as slide shows.

month: $29.95

trial: $1.00

year: $7.95/mo

month: $30.50

trial: $1.95

year: $13.50/mo

month: $30.50

trial: $1.95

year: $13.50/mo
month: $29.95

trial: $1.00

year: $7.95/mo