Monsters Of Cock Overview
Monsters of Cock specializes in presenting you with erotic sex action that features beautiful cute girls in steamy sex action with dudes endowed with great black huge cocks that are even referred to as monsters. A man's cock has been an item of common discussion for centuries. When such a cock is beyond a girls dream in its size, there is more reason to be obsessed. I don't subscribe to the utility theory that a cock is just that; regardless of how big it is. The amateur girls on Monsters of Cock prove that and more.
Monsters Of Cock Features
Monsters of Cock is portrayed against a contrasting black color. The top panel of the landing page comes in rare brown with a white title inscription on it. I was invited to a host of beautiful curvaceous models; either taking a cock or preparing to take one, or several at a go. I wanted to know what lies in a porn site with such a curious title. I was not delayed any further. The home page is filled with tagged images of the sweet looking beauties taking in as much as they receive. The pages are organized so that it is easy to access specific points without a hitch. I had fairly easy time catching up with what I wanted.
The site has been around for quite a while. Therefore, you should expect lots of content to sample. There are many high-quality flicks but you could stumble upon some that may not be exactly HD. That should not be an issue since such an old site is expected to have a mix of content.
Members of Monsters of Cock are allowed access the Bang Bros Network. Bang Bros has over 37 sites in its network. Check out content on such sites as Big Tit Cream, Tug Jobs, MILF Soup, Magical Feet, CFNM Show, Fuck Team Five and more.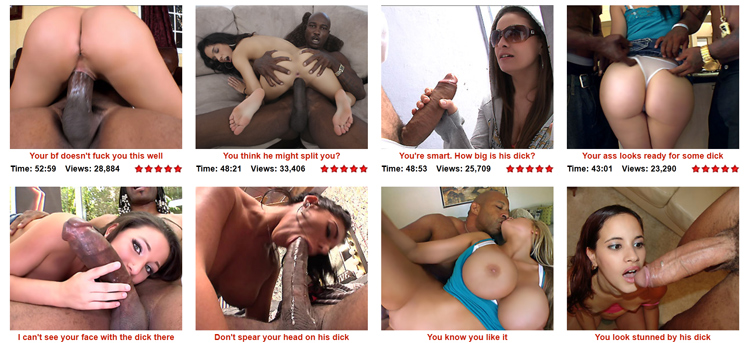 Monsters Of Cock Contents
All the porn entertainment on Monsters of Cock is exclusive. You are treated to a rare fetish in which cute, attractive amateur girls take in huge cocks from black dudes who seem proud to be so endowed. The girls love the cocks inside them. They are captured sucking and caressing the cocks and even trying to take them deep in their throats.
There is a lot of hardcore action that features innocent looking cuties mesmerized by the huge black monster cocks. It feels natural and sexy to have the girls titillate and suck at the cocks that project, mostly, from bushy and hairy crotches. If you are ticked by interracial sex, you better try and catch the amazing encounters that the girls and the dudes present. There are beauties from all races. I loved the famous hot and charged blondes being screwed hard as they look on.
There is plenty of creativity on Monsters of Cock. The scenes of these gorgeous models being rammed hard in their pussies are captured in a variety of places. I loved the staircase sex scene in which a six pack muscular dude screws a girl from behind. I guess the selection of the models was carefully made. Monsters of Cock also happens to present you with some of the juiciest bums I have ever seen. The well-rounded behinds serve as effective cushions. The relentless and gleeful dudes screw the hotties until you begin to imagine that the girls could pass out under the weight of the cocks. Well, the cocks are big and sensual, some are even uncircumcised. The dudes put up a great black cock show but I guess the girls know the secrets.
Users are allowed to stream the videos using the embedded Flash Player on the site. The files can be accessed in MP4 and Flash. You won't be complaining about the quality of the videos and even pics on Monsters of Cock. There are more HD videos and High res pics than you will finish in a lifetime. The updates are fairly regular too. You get over 570 videos that play for an average of 30 minutes each. There is an equal number of images. Each set comes with over 350 pics.

month: –

trial: –

year: –
month: $29.95

trial: $1.00

year: $119.40