Megan Sweets Overview
Megan Sweets has been around for a while, and we cannot get enough of what she offers on the site. When the site started, many were of the opinion that it would fail as it mostly featured one porn star. However, that was back in 2010 and the site is still on six years later.
The site features Megan Sweets playing with herself seductively, exposing her exhibitionist ways. She goes further to bring in some of her friends in the action all for your viewing pleasure. The site has found a way of getting a balance between keeping the site soft core and naughty all at the same time.
Megan Sweets Features
Simply put, this is a very tasty website well done by a webmaster who knew what he was doing. The site is simple and looks very inviting with icons well placed and very easy to see and read. The site is not congested as there is order in the site. Unlike the new websites that are started nowadays without a clear direction and lacking intent, Megan Sweets has been able to achieve great results in its purpose for existence and is the reason why it still is around.
Navigating the site is pretty simple and easy with many features included to help you with this. Also, each video clip comes with a clear description of what is to be expected inside which is a helpful addition to this cause. I have been able to use this site to reach full climax from my office more than once. It is a tastefully done site and many other sites can borrow.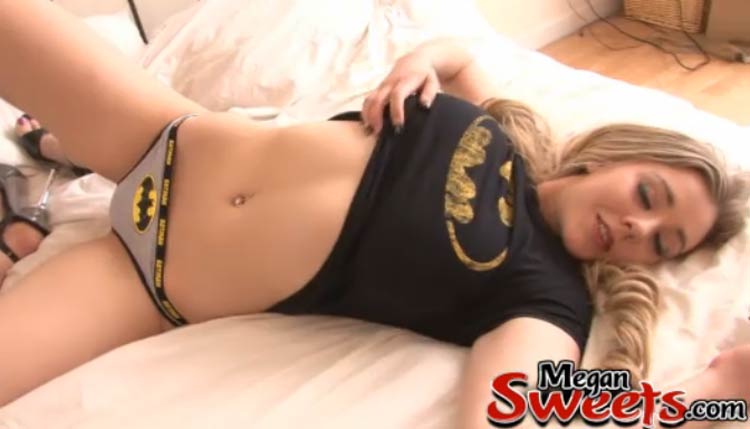 Megan Sweets Contents
Megan Sweets is a world renowned porn star not with her well-documented bosom and hardcore video clips that can be found online. As such, you are sure to get the best time on this site. Apart from that, she has involved a few of her friends in some of the clips and thereby adding the heat levels on the site.
The site boasts of 56 videos. This is a really impressive collection considering all of them star Megan Sweets. Apart from this, the site offers you access to six other sites from the single membership from where you can enjoy more boobs. Some of the bonus sites include I Love
Bitties
, Louisa May,
Victoria
Summers among other sites. The videos also come with 56 photo galleries that each holds about 130 very tasty images. These can be viewed online as thumbnails or if one wishes, he can also download them in zipping folders. The videos are all in HD format and can either be downloaded or streamed online. In a particular photo set involving Megan Sweets and her friend Brook shower together in bikinis.
They are very gorgeous and their boobs are humongous. They cover each other with soap and lick each other's nipples in a subtle yet enjoyable way. I loved that clip and always shoot a huge load every time I watch it.
All Megan
sweet hot
videos
are
I my table
,
I
cum anywhere anytime
.
The provision of one of her video
preview
 is a plus to the site, it will allow you a taste of what Megan Sweets has for you before you decide and be a
bonafide
member.
month: $29.95

trial: $4.95

year: $7.95/mo