Hot Legs And Feet Overview
All if not most of us have sexual fetishes. From simple wardrobe fetish to as weird as watching a lady in office attire squishing a cockroach with her high heels, it's perfectly normal. One of which and in my opinion is one of the fastest spreading fetishes there is the foot fetish. Yep folks, glorifying the feet. We've seen ladies giving blowjobs, others are aroused with simple hand jobs, but how about giving a foot job? Or munching on a hot lady's foot? Or better yet, spreading your cum on that chick's feet. I've come across with this website called Hot Legs And Feet and it would make any foot fetishist's boner drool all over and feel that they're in foot heaven. With a colossal collection of videos, it's was actually ranked on top of the list among the foot fetish sites on the web. So for you foot loving dudes out there, you might want to read this and what to expect from this website.
Hot Legs And Feet Features
So let's get down to business. As I've browsed through the site, it really is well made. Most of the videos are in high-definition so for those people who are into a bit of detail seeing those feet in action, this site won't fail you. And according to the site, they usually make 3 updates per week so expect freshly made foot videos all for your boner's satisfaction. The color tone's used will definitely start the mood and I think the web designer for this site has done his (or her) homework. The only flaw though is that the videos are somewhat "all over the place" meaning it's not that categorized. So we'll just have to make a do with the good old search bar. I wish they would fix this for us er…for foot loving people to have a user-friendly experience. For videos, ah yes, videos. They've got a modest amount of videos stored on the website. A little over than 2500 videos and counting and all averaging around 22 minutes long. That goes the same with their gallery if you prefer still shots of those pinkish soles. If you want to have a lasting memory of a video that you like, you can download it or stream it if you just want to have a quick petting session with your boner. And as for the models, man, they really know how to pick chicks. Most of the videos that I've watched are new to me, meaning the models are not the same faces that I see on other sites. What I can suggest though is try to recruit other girls like dark-toned ladies, Asian, Latina, something like that to have a wider array of choices and to rake in guys who prefer those type of ladies. And of course, there are the extra features like 3rd party feed videos and the live chat. So I guess this site almost got it covered for you foot lovers.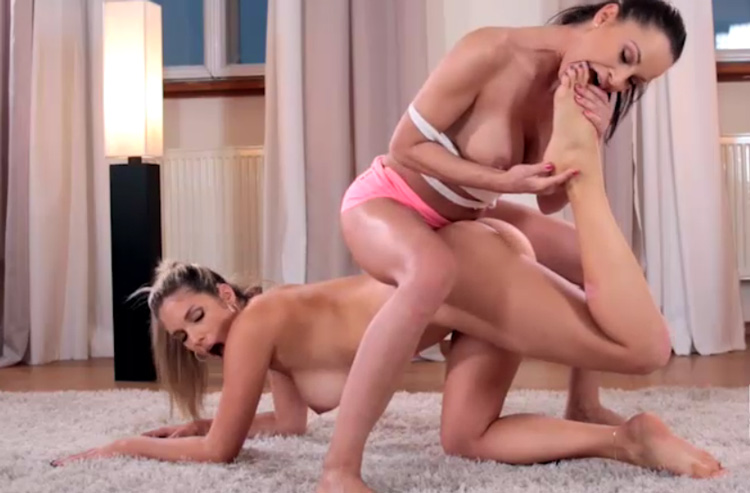 Hot Legs And Feet Contents
Girls here from what I've watched are mostly professionals. All are fine smooth skinned ladies with medium to large sized boobies with equally perfect pair of feet. They operate with this type of niche so expect to see a whole lot of foot jobs, foot munching and pedal cum shots. If some of you prefer messy foot action they also have those. Like there's a video where there are two cowgirls messing up their feet with sand before doing some sexual pleasure on each other. It's kinda good to be messy once in a while. Another clip that I've watched was in an office setting, two tight dressed, big breasted ladies, one with a whip, and one will definitely get laid. The scene starts when the girl with a whip started to have the other girl bend over and spread her smooth long legs wide open. She started to stroke her whip from the foot up to the other lady's tight ass. From the girl's reaction, it's as if she's being stroked by a long hard boner. Talk about believable acting. The whipped girl then focused on the foot, removing the long heeled shoes of the other and began pressing the heels of the shoe against the other girl's rosy red sole. Afterwards, she's already giving some tongue action on the other girl's foot. And of course, loud moans followed which gave me a nice hard boner. As the video nears its end, they're shown both naked fondling each other's tits with their feet. Now, if you're a foot person you should be turned on by now. Here's one more. It was just a preview that I watched so it only featured some of the highlights of the entire video. This dude already making a quick work of the girl by stripping her clothes off and sucking on her huge titties. Of course, there's the usual foot job courtesy of that hot chick. The best part of the video was when she was banged from behind while her boobies were dangling with every thrust the dude does on her. I also like the part where she did a reverse cowgirl while both feet are on top of the dude's thigh. The guy banged her real fast like a sex-crazed maniac!
month: $29.99

trial: $1.00

year: $12.99/mo