Girls Got A Dick Overview
If you are craving for something different, Girls Got a Dick presents you with really different porn entertainment that features stunningly gorgeous shemale cuties in raunchy sex action. There are thousands of videos and photos to watch on the platform and the network combined. All the movies presented come in full HD form that adds lots of spice to the watching experience.
Girls Got A Dick Features
I was impressed by the beautiful mix of background colors that dominate the site. You are invited to a home page with a mix of grey, dark gray, blue and even pink. Most of the rest of the background, apart from the top panel, is wrapped in snow-white. The webmasters do not make a mistake about user features. You have an impressive array of tools to check out what the Girls Got a Dick offers.
There is a list of categories that highlights the various entertainment options available. The models section allows you to check out a host of shemales and select the one you prefer. I could also click on any of the images spread on the home page and jump straight to action.  I also loved the fact that you are provided with a wide range of models to choose from; from Europeans, Latinos and Asians, to sexy hot ebony shemales. The scenes are also constantly updated so that you can catch a glimpse of what happens both on the site and on the wider network.
If you love bonuses on your subscription, catch up with such sites as 88 Square, Lesbians 24/7, MILF Relations, All Asians, HD Creampie, Filipino Fuck, Bone Whackers, Ass Handlers, POV Auditions, Ghetto Smash, Just Plump, Pink Affairs and loads more; and fulfill your wildest porn entertainment dreams. Mobile users have a chance to check out content straight from their devices with ease because the content is also optimized for mobile access.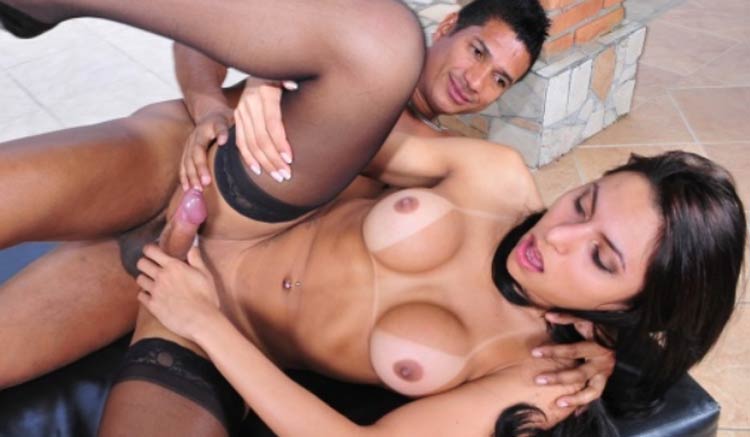 Girls Got A Dick Contents
The shemales on Girls Got A Dick sport the most stunning beauty features you can ever want on a tranny and, indeed, a girl. You are treated to a large host of strikingly hot shemales that turn you on before they undress. They are attractive and have an impressive taste for lingerie and other accessories. You are treated to a variety of sex entertainment that features the shemales in raunchy sex acts; fucking or being fucked by real dudes and fellow trannies. Occasionally, you are presented with some straight girls and dude sessions just to give some variety and break the monotony of focusing on one type of sex content; in any case, shemales do not exist in isolation.
Check out the star tranny; Michelle Araujo explores the depths of sex as she is sucked and screwed by a dude who doesn't seem to want to stop fucking. Araujo is a perfect match for this ebony dude because she gives it to him in many styles and position until the dude can't take it anymore. Araujo is captured in stimulating action; draped in equally titillating lingerie. The videos are cleverly shot. You are presented with a variety of angles and close-up shots that make the scenes so real.
Meet Loren Smith with her fellow shemale in a serene, and beautifully decorated room with a giant bed as they suck each other's nipples and drain cum from their cocks. Lorena has her cock steady for her mate and leads the way to a raunchy encounter that elicits a lot of passionate kissing and eventual anal penetration.
You have over 100 videos in HD form to catch up with. Each of these plays for an average of 20 minutes. You can stream and download the videos without limit. You are also provided with a similar number of galleries with a whopping 250 pics in high res. Check out the content in MP4 and Flash player formats.

month: –

trial: –

year: –
month: $29.95

trial: –

year: $119.38