Fucking Machines Overview
I am not going to fill you up with suspense. I am going to go ahead and name the porn site that we are going to review today because it is so awesome. We are going to feature Fucking Machines today. But before we go into depth, let me list down five reasons why we think this is one of the most awesome porn sites of all time.
First, it belongs to the prestigious porn network, Kink. The adult network is already well known in the industry as one of the best networks because of their high-quality content and state of the art studio. Heck, you can even take a tour to Armory Studios if you want. Yes, that's right. They have the entire site devoted to those who would want to reserve some tickets and book tours to the famous studio.
Second, their porn stars are all handpicked by Kink themselves. They don't just get porn stars because of their looks. They get these models because of their own personal fetishes as well. In this way, the scenes that you are going to see are a hundred percent real (along with all the orgasms), because their models are really into these fetishes in real life!
Third, all of the content that you are going to see on this site are exclusive and special. Only premium members are going to have access to their videos and other additional bonus content. Don't worry, though, signing up only takes a couple of simple steps and it's not as expensive compared to other premium porn sites out there that offer the same quality of videos.
Fourth, Fucking Machines is perfect for all we geek out there who dream of girls with pussies wide enough to accommodate machinery. Yes, it could wreck a man's ego to get intimate with a girl with a pussy that big it could eat you alive! But, it's an entirely different story when we're talking about ladies opening up wide to get alien ware over there.
Finally, it is awesome to know that the ladies actually have the control over the machines most of the time. In this way, the action is real because they get to control how much they get pounded and how fast. There are even machines that go in ways you can't even dream of! That's how awesome Fucking Machines is.
Fucking Machines Features
A porn site that is under the adult network Kink is not that hard to spot. By just taking a look at the layout and website design of the porn site itself already tells you that it's from the prestigious network. This is the product of their website creators' hard work and effective branding. 

The first thing that you are going to recognize is the familiar red and black color scheme. Upon landing on the page, you are also going to see the wide preview trailer of their latest video. In the preview itself, you will already notice the high-quality that we were talking about a while ago. After the trailer, there are other thumbnails below that you would want to see. Take a look at the porn site's other latest uploads, featured content, models, and their sex toys for sale. 

Yes, that's right, they have sex toys for sale! While there might be low chances that you would be able to purchase the exact fucking machine that you have enjoyed watching the video for your own sex den, you would be able to purchase other sex toys used in other videos. We suggest that you explore the toys they have because there are actually some rare finds there that you would not be able to find anywhere else.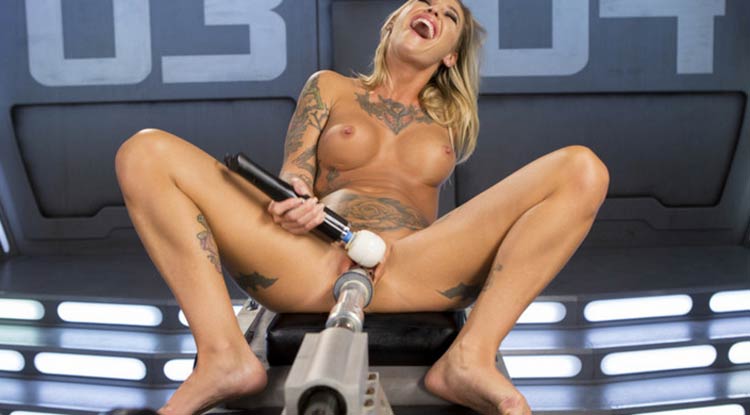 Fucking Machines Contents
Kink has a huge repertoire of different types of models across all different gender orientations. With that said, you would not find it hard to fall in love with a porn star here. From blondes to brunettes, to another type of beauties – they will be here just waiting for you! All you need to do is sign up for the site and log on. 

As for the videos, you will be surprised on the different types of scenes that you would find here. The extensive selection of the different fuck
ing machines is an absolute wonder as well. However, my most favorite part of their videos is the fact that it is in that clear crystal quality. You can see everything in such a high-definition resolution that you can already feel the jitters of the models
themselves as they orgasm just because of the extra details you see in the videos!

month: $29.90

trial: –

year: $169.95

month: –

trial: –

year: –

month: –

trial: –

year: –
month: $49.99

trial: –

year: $319.99 – $26.67/mo