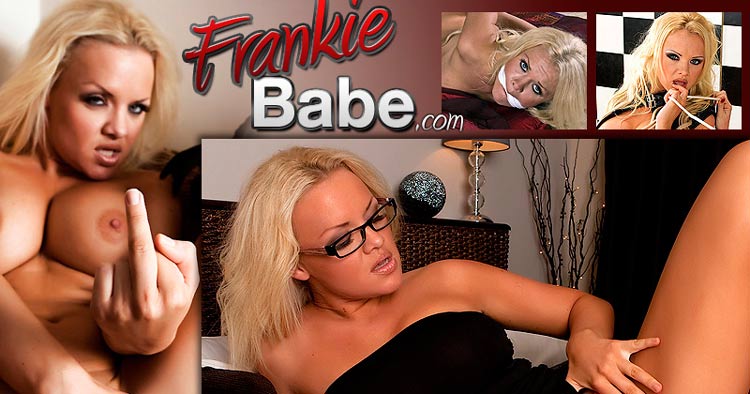 FrankieBabe Overview
FrankieBabe is the home nest of the gorgeous British model Frankie. She loves sharing her exclusive photos and other content with her friends and admirers. Her content is explicit and sexually charged. This attractive blonde has found a way of exploiting her endowment to the maximum. Her life story tells of her longing to become a model from a tender age. She has already had more than her fair share on the fame and glamour scene.
FrankieBabe Features
The site has a remarkable design element that seeks to set it apart from the rest of the pack. It is draped in a black décor that stirs a feeling of a serious movie session (Hollywood style). I love the landing page layout that has an all black décor with the image of the fantastic Frankie displaying her boobs in a rather overt way. The only obstacle between the user's viewership and the actually scene is the cover of darkness that enshrouds her body. Navigation on the site has been greatly boosted by the various categories included, plus the model index. Of course, navigation can be a disaster if you leave it to the invariables alone. The site has undertaken to tweak the site so that you can load your content without having to wait for long hours. Once you show interest beyond the landing page, you are ushered to the next page, and voila! You are treated to a lavish array of captions of sweet Frankie in her element in various scenes. The display and layout on their first page is very seductive. The top pane features a slide show of Frankie in various positions in action. She is seen in her lingerie at one point reaching into her panties with her index finger. She is spotted in action in another scene as she kisses with another very attractive blonde. There are various categories spread out on the first page. Each of the categories has a live link or tag that leads you to the heart of Frankie's action. I love the fact that the site does not allow unnecessary ads to interrupt fans while we try to savor the best of what Frankie has to offer. The platform is accessible via mobile phone and a couple of other devices including the tablets. I could not find any bonus sites offered under membership subscription but I think the exclusivity of the content has something to do with it. There are no live cam shows either. However, the girl provides viewers an opportunity to book her for some live shooting. This service, to me, is a lot like a live cam show, only this time you have to book her.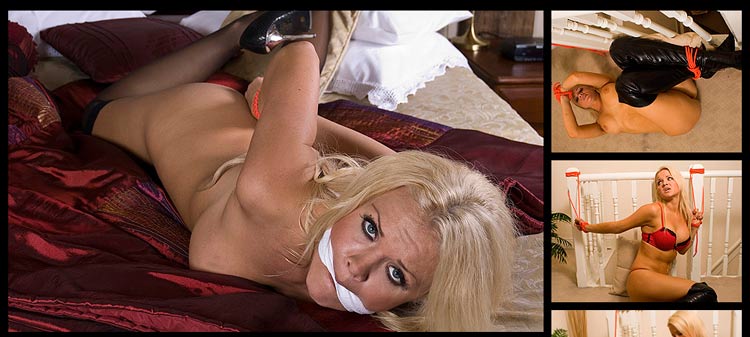 FrankieBabe Contents
Frankie is marvelous and attractive by all means. She has also got around choosing girls she can rely on for sensual gratification. The girls who serve to complete the star pornstar acitivites are also very attractive and sexually vibrant. Frankie is seen displaying her sexy lingerie in various scenes. She also gets fingered and sexed up by one of her friends as she gasps for breath under hot kisses. Frankie provides a bit of content on fetishes such as, pantyhose, and boots, PVC, leather and stocking fetishes. Her shiny leather-ish outfit is a unique choice of hot costume that etches on a viewers mind for a long time. I love the way Frankie is taken on by her blonde friend in one of the sexy and steamy lesbian encounters. She is tied up on the bed and sucked up to ecstasy. There are over 105 scenes to savor on this site. Each of the scenes allows you a 5 minute playback. If you wish to calm down the heat, you can recline on your couch or bed as you go through the galleries. There are 327 galleries. You get over 40 pics in each of these. The files are available in WMV and MP4. All content can be downloaded in a ZIP file.
month: $29.95

trial: –

year: –