Drill Him Overview
Hot, muscled crewcut guys with large, hard cocks feature in this military-themed site. The dominant tops are trash-talking full of cum, ready to show new recruits exactly how things go in boot camp, in videos featuring blowjobs, anal, and bareback gang bangs.
Drill Him Features
The site is very straightforward, with the videos listed in no particular order on several pages. These pages show the scene name, a still image, and the length of the video. It's difficult to tell from these pages what action takes place in the video. When you click on the image you get the video (or trailer, if you haven't signed up), with some still images and a short description of the scenario. There's no move-by-move description.
There's a military-style theme to the site, with official-looking fonts and a dark background. The site header makes no bones about what you'll find here, with great images showing musclebound guys getting rough and dirty.
There are no categories or tags, and the models are not named or searchable on this site. It's rough and ready, much like the videos themselves.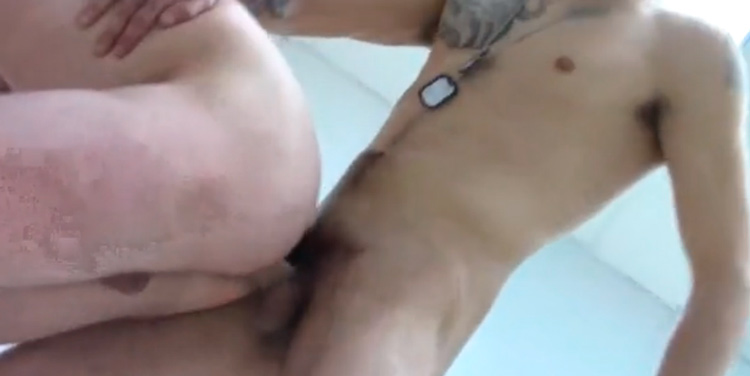 Drill Him Contents
The models are mostly white guys, built and with army regulation crew cuts. If they're wearing anything in the videos, it's a military-style t-shirt, camo pants or desert boots and, of course, dog tags. They all look like the kind of down-home clean-cut dudes who would join the military, so they're believable and hot as naïve and fresh privates or worldly-wise sergeants. The straight-acting guys are very dominant and in control, as befits the scenario. The models are professional, with great bodies and large cocks. 
 
There's not a lot of storylines, but the sets are nicely done. There's a basic barracks set and a shower room set that sees a lot of gangbang action. The setup is generally that two or more dominant senior guys are initiating a new recruit, with a lot of oral and anal action (though the recruits don't seem to have any complaints). 'Smashed Ass', for instance, features five guys taking turns on one new private, as they hold him slung on their arms in the bathroom. He groans and moans with pleasure while the sergeant orders each of the others to take their turn. In 'Banged on Base' a cute  private is spit-roasted by his sergeant and another private in the barracks. Most of the scenes are quite aggressive, with some fairly hardcore face-fucking and ass-pounding. 
 
The camerawork is not the highest quality, but that adds to the realistic feel. The videos are a bit grainy and have a slightly amateur feel. The advantage, apart from feeling like you're watching a scene from a real military base, is that the camera is able to get into some real close up positions. Despite the handheld style, the lighting and sound are quite good, which is an advantage as the guys spout some hot dirty talk throughout the scenes.

month: –

trial: –

year: –

month: –

trial: –

year: –

month: $24.95

trial: –

year: –
month: $24.95

trial: –

year: –