Czech Gay Amateurs Overview
The CzechGayAmateurs is among the finest sources for gay porn videos featuring real-life gay amateurs. A portal from the people behind the straight CzechAV network is always a great addition to any gay porn fan's website list. On this sexy gay porn website, real amateur couples let you in their bedroom, showing you how it's done in reality! As a new site, it may not be that big, but there is more!
Czech Gay Amateurs Features
On the CzechGayAmateurs, you get what you sign up for: real Czech gay couple having intense yet intimate sex on camera. You are going to see hot blokes in hard action here! This site is a recent addition to the CzechGAV (Czech Gay Authentic Videos) network. It has only a handful of scenes, but they have some great features which make them recommended.
For example, they are captured in Full-HD, but they are not studio shots. Also, they are long and cover a lot of hardcore niches. The site itself is simple, just like all sites of this provider. There is a menu in the members' area, which lets you switch sites, and sort the list by recentness and views. There are seven sites in the network, and all of them updates regularly, so there is new, hot gay porn landing every now and then.
What you get here is perfectly exclusive, and you can't find them elsewhere, especially in such good quality. MP4 and WMV video formats are in use; there are streaming and downloading options too, so you can watch the scenes in any way you like. Mobile version of the site is available, which means you have the option to enjoy your favorite videos of CzechGayAmateurs anywhere you are.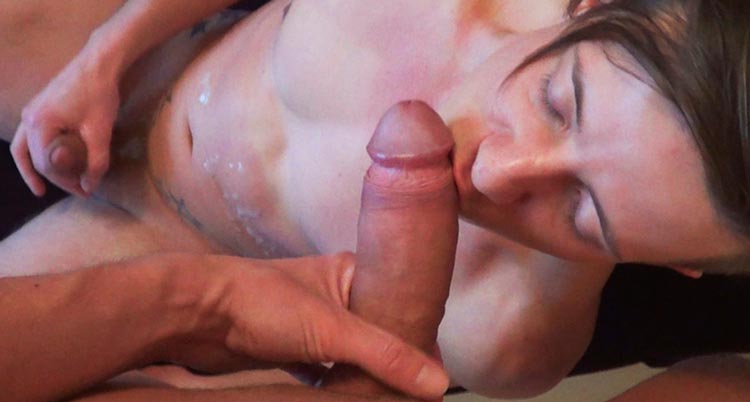 Czech Gay Amateurs Contents
The blokes in the scenes of the CzechGayAmateurs are real, handsome boys. You shouldn't expect muscular professionals acting like amateurs, as the site follows the company's good habits: real amateurs, real sex, real couples and real relationships! They gave a camera to these horny, sexy couples, and asked them to capture their intercourses. Well, they did that, and the results are quite fascinating!
But let's take a look at the me
n first. Since there aren't that many videos on the site yet, the variety of guys isn't that great. However, the ones there are really hot pieces! Since we are talking about couples, you are going to find some really go matches. One of the couples consists
of big, muscular blokes, probably in their third X. They have great arms, firm asses, and quite big schlongs. The top-bottom roles are usually decided, and they don't seem to be too versatile. Now, if you like big guys with tattoos, you will find couples
for your taste.
Another couple, for example, is made up from two gorgeous jocks. They even have some feet fetish going on, so you are going to see some feet licking from them too! There is a kinky couple of gays, who do some fisting, and other heavy fetish
ist stuff. And of course, you can't find gay porn sites – especially amateur sites – without
twinks
. The hot fresh gays here are truly gorgeous pieces: tall, handsome boys with big packages in their pants. They are all real amateurs, or if not, they are re
ally good actors, and we would give them our sex-Oscar if we had any!
So, what takes place in these videos? That's something you have to see for yourself. In order to satisfy the needs of the viewers, the people behind the site chose different couples, and
they are
the first line of variety. But the actions they perform are what make this site so exciting. As you will see, the guys grab a camera and record different aspects of their lives. Of course, they focus on the sex, but you also get to peek into thei
r private life too. This means you can watch them working out in the gym, talking the day over in the evening, or taking a shower together. We advise you to take a look at their environment, let your mind wander around in their homes – they live in some ni
ce places, which are cozy and look comfortable like real homes should.
Since the guys handle the camera, they often switch hands or shake as they drill their slut's butt. Of course, we are talking about amateurs here, so they often just put down the damned
cam and let their lust take over! And that's when the real fun starts! The places to a guy have sex are varied: the
twink
couple, for example, goes hardcore in the woods, while another couple has fun in the shower. Eventually, there is always anal sex, an
d as you are going to see, they often do it bareback.
Every scene of the
CzechGayAmateurs
is long – basically, they go on for more than 40 minutes on average. Also, there are multiple intercourses featured in them. Sometimes it's just sucking, at other tim
es it's all hardcore.

month: –

trial: –

year: –
month: $29.95

trial: –

year: –