Creampie Thais Overview
CreampieThais is one of the finest creampie porn sites. They have an amazing collection of amateur horny chicks that have sex for the first time on camera and let a lucky guy fill them up with jizz. These women may not be pros but they sure fuck like they are.
Creampie Thais Features
The layout of CreampieThais looks very nice for an amateur site. They offer plenty of previews and information on those scenes (runtime, tile, ratings). There aren't any category tags to refine your searches but you can put in whatever you want in the search box and filter out content that way. You can choose to see videos by date and popularity but it doesn't go much more in depth than that. This, however, is awesome for anyone using mobile devices to access the site. The lack of complex filtering options and clusters of tags make CreampieThais very easy to navigate. 
 
There are many membership plans to consider. First, there is the one month trial that allows users to view all the content but only in the online player. Then there are three premium subscription plans, one month, three months and 12 months. These plans give full, unlimited access to members. You can watch online or download files to your desktop or iPhones. You also get access to a few bonus sites for even more Asian chicks in action. It really is a sweet deal when to all of that you add full customer support, discreet billing but most importantly, frequent updates and exclusive videos and photo sets.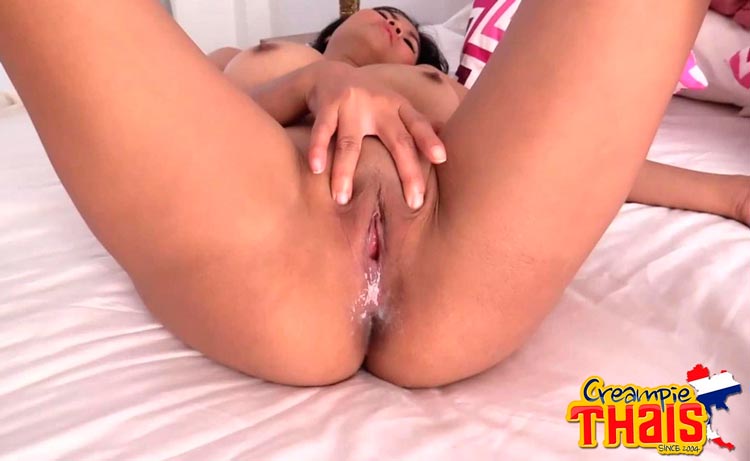 Creampie Thais Contents
You would think that just because this is an Asian porn site that focuses on Thai chicks, all the models are tanned and skinny. It was a pleasant surprise to see that alongside all the tight brunettes one would expect, there were plenty of pale looking girls and quite a few showing off impressive sets of jugs. Of course, all this variety is made possible by the fact that they are all amateurs, real life everyday women that just like sex and don't mind being filled and filmed. There are also a few blondes but I have yet to see any natural redheads or even fake redheads for that matter. I guess if there were too much variety, people would begin to question their nationality. 
 
If you choose one of the premium membership plans you can download any movie you want in a WMV format at high or low resolutions. You shouldn't need to save the low res ones anyway unless you have the worst internet connection possible. The site offers amazing speed and videos don't run for more than 25 minutes, so just go ahead and download 720 or 1080p. I did not see any archived photo sets but once you're on a model page you can browse through all of the pictures there and even save them individually. The action usually takes place in a dude's home even though all the movies start out in a public setting, you never see public sex scenes.

month: –

trial: –

year: –

month: $39.95

trial: –

year: $119.40
month: $29.95

trial: –

year: $119.40 – $9.95/mo