Creampie Angels Overview
I thought that I had interesting fetishes already but when I visited Creampie Angels, I discovered that there was no end to interesting, unique and even peculiar fetishes. Well, it's not peculiar for a girl to love to play with cum and all, but the sheer numbers of the hotties who love to see cum spewing out of their pussies on this site is what caught my eye. The sexy hot models are largely drawn from European communities. They are pageant type models with lean bodies, soft skin and great height.
Creampie Angels Features
The site is impressively draped in dark blue that is sometimes punctuated with some black and white hues. I had an easy time checking out the content on the site the first time I visited. There is a clearly outlined categories list, a model index and even several tagged captions with links that lead to the primary videos from which the captions were gleaned. There is a clear and deliberate effort to make the user comfortable. The site is updated up to two times a week; although I thought at their level of experience they would do better. On the flip side one would contend that when the updates are made too often, the deprive users time to settle down and enjoy earlier content without being focused on form rather than content. I could stream the videos seamlessly on the go. The site is optimized for both PC and mobile devices. In fact, when I checked out the content on mobile device, I didn't see a difference. So, kudos to them on that front too. Having highlighted the tools available to assist users to get around the content on the site, it may already be redundant to tell you that navigation is great fun. There aren't many things to comment on this site but I guess I would be leaving out critical information if I didn't inform my readers that the site is essentially a network. Therefore, with your subscription to creampie-angels you are privy to accessing content on up to 34 other sites as a bonus. It is under Teen Mega World network of sites. I visited several of these sites and had just as much fun. I guess I was even overwhelmed with content because I had not even exhausted what I was entitled to on the primary site. If you wish to watch diverse amounts of content while on subscription to this site, you have the liberty to check out Teen Sex Mania, TMW mobile, Ten Sex MOVs, They Didn't know, X Angels, Boys Love 18, Squirting Virgin, First BGG, Anal Angels, Beauty Angels, Old N Young, Lolly Hardcore and more.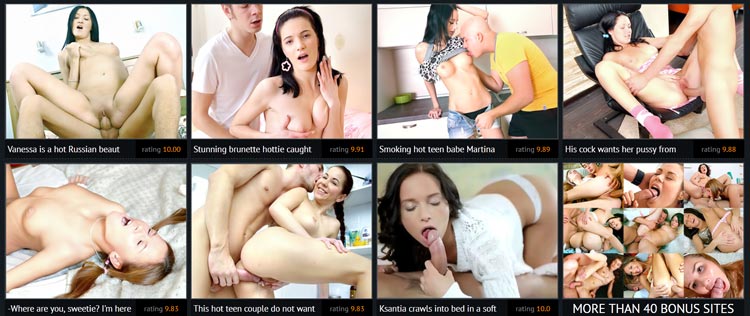 Creampie Angels Contents
All the girls on this site are of European origin. Although a great number of them are blondes, there is an equally great number of brunettes and black haired sexually charged models. I loved their zeal, energy and obsession with Creampie. The site sustains the main theme. They have sufficient videos of girls bending over as they allow the cum to drip out of their pussies. Some scenes feature the beauties being screwed in bareback encounters until the dudes splash the cum. Meet Amelia, the sweet friendly brunette with an attitude. I was drawn to this sexy model because I naturally have something for girls with an attitude. Amelia is stylish, classy and proud. I love the way she naughtily steals glances at the camera in the heat of the moment. She is featured in sexy lingerie and equally entertaining birth day suit. The site has a generous amount of videos to sample. You have over 156 videos to watch. Each of these videos can play for 25minutes. The files are made in WMV and MP4. You also have the Flash player to stream videos directly. Tone down the heat by visiting 156 galleries. You have 150 pics in high res form in each of the sets.

month: –

trial: –

year: –
month: $29.95

trial: $1.00

year: $7.50/mo