CollegeFuckParties Overview
CollegeFuckParties is a great amateur girls' porn video site, which brings you the craziest and most sexual fun-filled parties you have ever been to. The site really knows how to make amateur girls come out, open and show all their expertise. What better way than to get your inhibitions down and then party like there is no tomorrow? All the girls on the site are not only gorgeous but also horny with a voracious appetite for sex. And they really don't mind getting down and dirty at all.
The girls are Russian hotties who love experimenting and being adventurous. The site has hardcore stuff, from kinky one on one encounters, a lot of anal action, lesbian action, some solo play and then the ultimate party stopper, the gangbangs. I'm sure that you are sufficiently intrigued by all of this and you might end up rushing to the site to sign up.
Before doing that, read this extensive review of the premium site to discover all you can get from its quality design, content and layout features. Read the review to be educated about the potentials you can gain from watching the right quality porn content.
CollegeFuckParties Features
CollegeFuckParties' creators have truly done a marvelous job at designing the site. The color scheme which was used is very simple. The background is white with a touch of gray for the font and secondary background. The website is well organized and uncluttered and easy to navigate through. The clear layout of the site makes navigating through it quite easy. You will be astounded by the quality and the quantity of videos in store for you.
There are more than 400 porn movies, which you can watch or download. The average running time for every video is about an hour, yes, that's exactly how much of porn you get to watch. All the porn videos are in full high definition. You have the option of downloading these files in either an MP4 or AVI file format. The highest resolution available for them is 1280×720 @ 3829 kbps. And the best part is that you download as much as you want without any restraint.
There are photo galleries on the site too. There are about 80 photo sets and each photo set has about 350 pictures whose resolution is at 1280×960. The pictures are downloadable in hi-res as ZIP files. The subscription gives you access to various sites in the WTFPass or WTFBucks network, with videos totaling about 2200. The videos on the homepage are trailers for you to enjoy.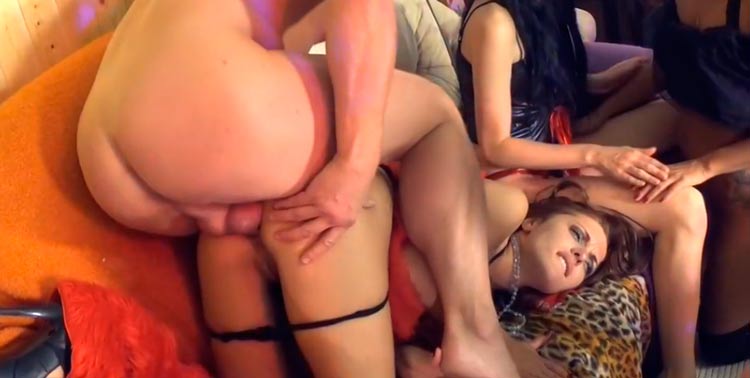 CollegeFuckParties Contents
Let's talk about the girls that the site has managed to assemble for you. Be sure that one peek into the site will certainly let you know for sure that your cock is in for an absolute treat. The site has managed to assemble girls you could only imagine. The girls are amateurs and best of all, they are hot Russian chicks. Russian girls are known to be some of the most beautiful and stunning women in the world and this site has truly proven that. The girls are quite sexy and amateurs but they really know how to have a good time.
You are offered a wide variety of choices when it comes to women as there are blondes, brunettes and da
rk haired girls with bodies that are so fit and lithe you will want to just hold them and keep pounding into them. The girls have gorgeous bodies, with tits so perky that you will want to sink your face into them. They have the juiciest pussies that you co
uld just pound into. And you can even see the massive dicks straining to get
inside
their pussies because they are so tight.
These girls are wild and untamed and they really know how to give a good time. They straddle and really ride these boys like there
is no tomorrow and make them cum like never before. There is a lot of hardcore action,
which you get to watch,
from one on one action, lots of anal play, masturbating scenes, lesbian action and even a lot of gangbangs. By now you should have surely realized
that the site has something for everyone. All the girls featured on the site are very skillful. They are the kind of girls that you always have been fantasizing about all the while.
None of these amateur sluts have any experience in acting such videos. And
just because they are amateurs doesn't mean they aren't good at what they do. In fact, they could even give established porn stars a run for their money, especially because they completely give it their all. They do things in bed that you only have thought
about. And you are sure to enjoy yourself as these videos even have a lot of lesbian gangbangs too. So, you are going to be surrounded with a ton of beautiful women with absolutely no distraction. These girls really have no qualms doing anything and they
will really get down and dirty for you. They will get down just to make
sure that your cock has the time of its life. The basic premise of the site is quite simple. It is based on the lives of whoever is an amateur. And every day in their lives is a huge
party where everyone is having fun.
All of it starts as innocent teasing and then after everyone's inhibitions are down, and then clothes come off and girls are spreading their legs and everyone is in the mood to get fucked and fuck in return. Doesn't it s
ound like a lot of fun? If it does, then you can join the orgy fun by signing up to
CollegeFuckParties
.

month: $34.95

trial: $1.00

year: –

month: –

trial: –

year: –

month: –

trial: –

year: –
month: $34.95

trial: $1.00

year: –