Cam Crush Overview
The usual porn site will bring you movies or films that are in high definition. These films can either be amateur or user submitted or the professional, adult entertainment DVD's that can be subscribed to online. As a member of these porn sites, you will also get a vast archive of photos of all the models – sexually explicit photos. You are privy to that. But sometimes you wish that you can directly interact with the model and that he or she can see you live. In the same manner, you want to see the model do all sorts of sexual things for you – masturbate in front of you, maybe? Or a couple having sex while you are watching and this is not pre-recorded. You can watch it live and in real time – you can even talk to the couple and tell them how you want it done – missionary, doggie, anal – whatever you want. Wouldn't it be nice to have a porn website like that? Like as if you are in a titty bar? Not many know about this because people are used to watching porn films and movies. There is a live website with models or performers that can indulge you with your every whim and that is Cam Crush. In Cam Crush, you will have the pleasure of talking with your chosen model. Yes, you can choose your model or performer from Asia, Africa, North, South and Central America, UK, Western, Eastern and Central Europe, and Australia. You can select if you want a woman, a man, a transgender, a couple or a group performer. You can even go down to specifics like age, hair color, eye color, build, ethnicity, height, and breasts. There are more specific choices on Cam Crush – pubic hair, body art and body hair. With this, you can find the perfect chat and sexmate for you.
Cam Crush Features
The design of the website is very inviting. Once you log in Cam Crush, you will see pictures from the top of the page down to the bottom. The pictures are of the models or the performers – some are very graphic. You will see boobs, butts and pussy. Some photos are just sexy or nude poses which aim to tease; show a little and not a lot, but very effective to the core. (Men and women start to feel horny that way.) The background of the site is that of an animal print layout. Cam Crush is a live chat website for adults. You can become a seeker of a performer or a become a performer yourself. First, you need to sign up to become a member and enjoy the perks of the site. Signing up entails no fees and you can do live chats with your friends in Cam Crush, but the only way for you to enjoy the full access, live performances of the models is to become a member. What are the perks of being a member? Instead of watching a full length film or DVD, you can talk to your chosen performer and make him or her do what he is good at. For example, you want a 30-ish, Caucasian woman with red hair and green eyes. You want her to have full breasts, but not too tall. Also, you want your red head honey to masturbate in front of you using a rubber dick – fucking her pussy and some anal action too. If you are a member, all you have to do is click on Age 31-40. Then, go to hair color and click Red/Auburn. You can also click green for her eyes. Go to each category and select. At the end of all that, you will have a list of ladies lining up for you and ready to give you some pleasure. This is just one feature of the site. Another feature of Cam Crush is their HD resolution. The model will do a live stream while communicating or performing for you, correct? The cam to cam experience will be in high resolution and large video streaming. But, of course, you can also choose medium or the S size. For a premium member in Cam Crush, you will have the personal one on one interaction with your chosen performer. You can have a private session. You can talk to her or him if they have that option. You can also rate your model if you like. It is also allowed for a premium member of Cam Crush to make a performer his or her favorite. You can also email the model you like and who knows, they can initiate a long lasting friendship with you. There is a notification to you if ever your favorite model is online and ready to chat or perform in real time.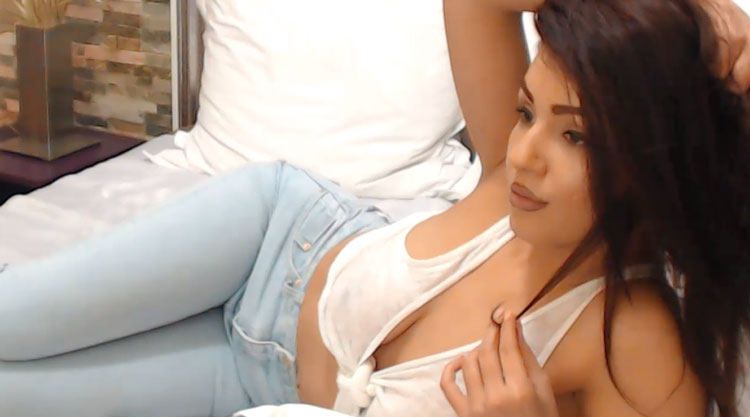 Cam Crush Contents
The ladies of Cam Crush are mostly normal, everyday people. While some of the performers here are professional porn stars, a lot of the models are your average Jane – working 8 hours a day, but at night, a Cam Crush performer just for fun. Some use their real names while others have screen names that are oh so sexy in the eyes and ears. Take for instance, The Goddess Jannelle. She is paraplegic and has been rated 5 stars by the members of Cam Crush. She has blonde hair and is bisexual. She will fuck a dick or eat pussy. So hot! The Goddess Jannelle is a MILF with really big tits, pinkish nipples. She will show you her jugs and will finger herself in front of you. How do you like that? Another one is Ebony Booty 4U. She is a caramel sistah with an enormous butt. The honey is from South Africa and is always online – ready to chat. There are some pre-recorded videos, but Cam Crush prides on live webcam interaction. This is real time interaction, most of the time.
"This website is no more updated. Take a look at the top cam porn site collection".

month: $14.99

trial: –

year: –
month: –

trial: –

year: –