Asians Bondage Overview
The Asians Bondage is a porn site, where you can find videos, which can satisfy two quite popular fixations: the one for Asians (especially for Japanese), and the one for BDSM porn. Here you will find a growing collection of hardcore sex videos, in which hot and cute Asians are going to do things you wouldn't even believe it's possible. Japanese porn is kinky on its own, but when you add some hot BDSM to the recipe, you might even find it a bit too hard to endure. Though, if this is your thing, you will certainly love what you can get here. There are many videos, and in case you like BDSM and Asians, this site is really a promising one to explore. The Asians Bondage launched in 2013, thus it's not really an old website. It seems that the site has been updating regularly since the launch. The current update schedule seems to be a weekly one, and the numbers support this statement. We found about 410 scenes in the members' area, with usually a set of photos added with them. These flicks are long, usually go on for 20-25 minutes, and they feature some really kinky things. 

The site has good collection to show up, but there is
even more hot stuff for you to browser. The
Asians Bondage
membership grants you access to another six sites, which also feature some gorgeous
Asians in hardcore action. If you like to watch cute girls getting banged hard, and you also prefer the almond-shaped eyes, you will love these sites. There are mostly Japanese girls in these flicks, but you will find a
site which
focuses on gorgeous Thai
hotties
too. The content's nature ranges from the "regular", but certainly kinky Japanese porn videos, to some
monstercock
porn and rough sex videos of the site called
Brutal Asia
. The content isn't fully exclusive, but we have to say it's certain that mos
t of the collection – talking about network-wide – is exclusive, and you won't see them on any other websites.
Asians Bondage Features
The home page of the Asians Bondage perfectly reflects the nasty nature of the videos, but it also looks calm and nicely-designed. If you start to explore the site, you will probably notice that there isn't too much to do, because apart from the pictures there is nothing else for you to watch. However, the promo-descriptions and the nasty video captures of the few scenes you can find listed are quite spectacular, and they can help you get the idea about this site's collection.
Those who enjoy watching BDSM porn, surely won't hesitate much, and just as they should, we are also headed for the signup page. After the few seconds of entering the info the site asks, you get the credentials, and you can start exploring this fine site. The Asians Bondage has custom-built page, which you will find quite easy to navigate. On the very top of the page, you can see the menu. This has the regular options, such as the link to the different mediums, the favorites, and the extras. You can also find a Categories-dropdown, which makes it easier to find the kinky niches you seek. There are live webcam shows too, you can find them on their appropriate page. From the menu, you can also reach the bonus videos and the network sites – they are not the same, there are bonus scenes to enjoy, apart from the network content. The search option might come handy if you have something particular in mind. 

The Asians Bondage uses a standard player for granting you the in-browser access. This player plays the standard-definition MP4 files, which seem to be at the same quality as the downloadable ones. It loads up quickly, and the playback is as smooth as these girls' skin. There are only two types of downloadable files: one for PC – it's a standard MP4, offering a fine DVD quality. You also have an optimized version of the videos for mobiles, so you can bring your porn anywhere. There are circa 330 photo sets here. They usually contain about 40 pictures, and they come at a better quality: 1280×960 is their regular resolution. As you might guessed, they are independent from the videos, so you may find something extra kinky featured on them too. Fortunately, zip files are granted too.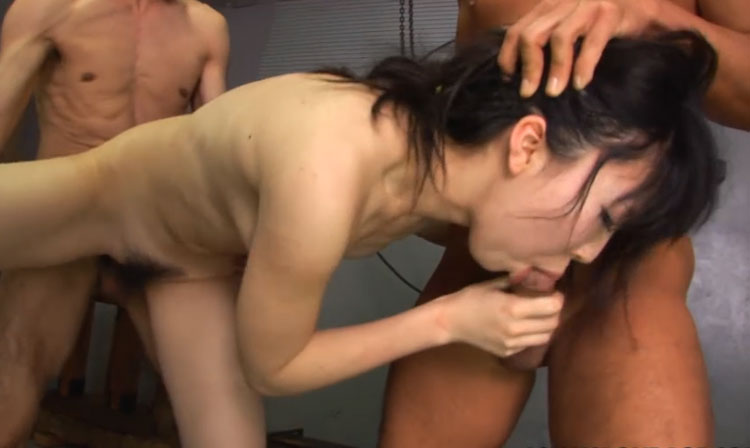 Asians Bondage Contents
There are only Asians on this site, and if you love Japanese girls, you will certainly feel lucky to have found this portal. You can enjoy here the heavy hardcore porn performance of genuine Japanese hotties, and there are a few videos which seems to feature US-based Asians – at least their fake breasts and US-style make-up suggest that. So, if you like to hear high-pitched moans and screams, you can have your fun time here, but in case you prefer the English-speaking Asians, you will love the site too.
Though they are all Asians, the site has a varied models' stable, and the cuties are quite different, not just in appearance, but in experience and in age too. The scenes are studio-made products, so they are captured in purposely built environment, and they are all under control. At least the US-looking porn videos seem so, but the original Japanese videos are slightly harder, and they seem to stretch the girls to their limits.
There aren't any stories you have to follow, the girls
get their fair share of fucking, gagging, and hurting they want, and if you get to go off by watching such porn, then feel free to do so.

month: –

trial: –

year: –

month: –

trial: $4.95

year: –

month: –

trial: –

year: –
month: $29.95

trial: $4.95

year: –