60 Plus MILFs Overview
Old women, kinky smiles and horny bodies, ready to get fucked by virile men, 60 Plus MILFs has mature women with their cougar like looks enticing males to come fuck them. Lying in satin robes, they open up their legs for pure 30 minutes of pleasure.
60 Plus MILFs Features
The design of the website in keeping with the trend in the porn websites is simple, they go with the form follows function to plan, where the videos are the main focus which shows that they have confidence in what they have to offer the users. There are no frills, just plain women and videos where they are getting fucked, licked, massaged and toyed with using sex pleasure devices. The menu bar consists of photos videos and grannies, pretty simple eh? And the website admits of having content for granny lovers.
There are featured grannies, featured videos and featured photos for you to see. Every video is accompanied by a rating of the video and a description of the model in the video. The description outlines what the woman looks for in a man, that he should be respectful, charming and intelligent, but that is certainly not what she is looking for in the sets of 60 Plus MILFs, she gets a rock hard cock in her hairy vagina and you can clearly see she likes it.
There is a modeling jobs option for interested women to join, brought to you by Score Media, the makers of the website and there is a referral program where you can earn money by making others join the website as well, that's a plus.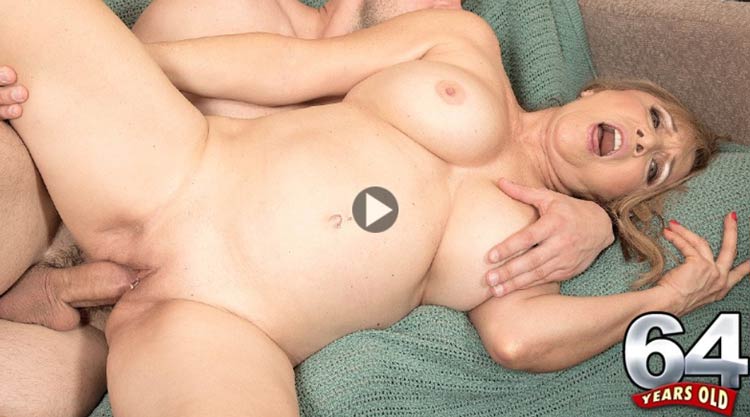 60 Plus MILFs Contents
There are a lot of grannies to choose from, these women are old and they're proud of their bodily hair, you'll see hairy vagina women flaunting their bodies and getting fucked. There are a lot of hot grannies, ones that don't even look like grannies at all, so you'll be pleasantly surprised to see these women on this website. There are scenes with black men that you shouldn't absolutely miss, they really get the women going with their length and girth, watch them gyrate to their tunes and have fun with you as well. There are scenes with a woman called Cara Reid which you will enjoy as she has some really mesmerizing eyes and perky tits and to add to that a tight pussy, I do not know how that is but I presume her husband has a little knob.
You
will
have
around
148+
scenes
to
choose
from with an
average
runtime
of 30 minutes.
You
may
download
them
in MP4
at
4000k and 1280×720
resolution
or in WMW 1500k and 640×360
resolution
.
You
may
see
full HD
videos
in a browser in Flash
at
1280×720
resolution
.
There
are 125
galleries
with 50
pictures
each
and
you
can download
them
into
Zip
files
.
On the mobile, 60 Plus
MILFs
is
good
,
you
will
like
how
everything
fits
in
well
on screen
as
it
is
optimized
for the
tabs
as
well
. The
videos
play
seamlessly
and the
content
is
all
out
there
for
you
to download
unlimitedly
, go
ahead
!
month: $29.99

trial: $2.99

year: –